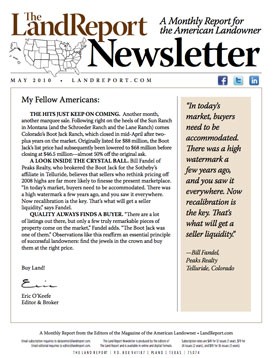 Dear Reader,
As you scan the May edition of The Land Report's monthly newsletter, springtime allusions to new growth are particularly apropos. The ever increasing number of transactions at all price points, including top-tier properties, clearly demonstrates that rural land markets are finally escaping the doldrums.
A long list of brokered transactions and auction results supports this development; some of the most notable ones are highlighted in this month's newsletter. You'll learn about all of these and more courtesy of The Land Report Newsletter, published by the Editors of The Land Report.
Our award-winning quarterly magazine is also available in a print version by subscription.
Enjoy!
The Editors
www.LandReport.com
The Magazine of the American Landowner