For Immediate Release
Contact: Kyle Miller: (720) 346-4669 | kylemiller@strattonandassociates.com
July 9, 2014 | Dallas, Texas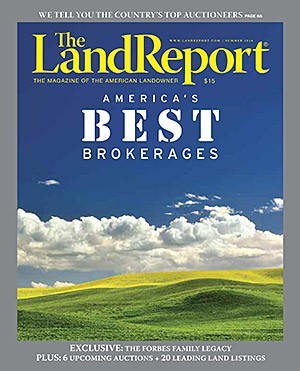 The Land Report featured America's Best Brokerages in its summer issue, highlighting more than 100 real estate firms across the country that specialize in timberland, productive farmland, income-producing properties, and recreational retreats. A sharp rise in revenues demonstrates the continued appeal of land as an investment class.
"The increased volume of transactions in 2013 by The Land Report's Best Brokerages confirms that land ownership continues to be one of the wisest investments anyone can make," said Publisher Eddie Lee Rider Jr. "In addition to providing an incredibly reliable investment, these outstanding brokerages facilitate clients who intend to protect our working lands, preserve iconic vistas, and manage wildlife habitat for the good of all Americans."
Market conditions trended positively, setting the stage for a banner 2014:
"This year has already proven to be better than any year since 2009," says Rob Pfister of Pfister Land Company, who adds that, "by the end of the first quarter, we anticipate closing in excess of $50 million on one transaction alone."
"The market is very strong and improving in most areas of the country," says Dax Hayden of Hayden Outdoors.
"The market has picked up momentum. Most transactions are heavy on cash with a smaller percentage of buyers assuming debt," says Jason Pettigrew of No Fences Land Company.
Brokers' hard work during the recession paid off with record growths in 2013:
"Last year was the strongest our network has experienced in its 10-year history," says Chris Hawley of Mossy Oak Properties.
"Last year, we experienced our best year," says Ken Mirr of Mirr Ranch Group. "The cattle markets were very strong, as was the demand for alfalfa, and this certainly influenced the farm and ranch market. This will continue into 2014."
Strong returns were also observed in timberland and productive farmland:
American Timberlands Fund II, a Southeastern-based timberland investment fund managed by American Timberlands Company, achieved a 24.21 percent return for the 2013 fiscal year, according to Tom Rowland of American Timberlands Company. This return far exceeded the industry index of 9.35%.
"High-quality farmland sells well. There is less farmland for sale now than the past couple of years," says Randy Hertz of Hertz Real Estate Services.