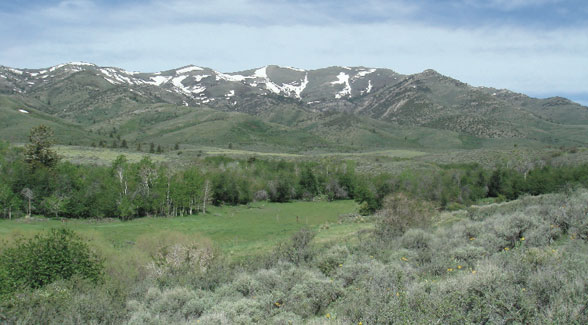 Andy Smyth is a straight-speaking man, runs a great brokerage business in Idaho, and has become a good partner with The Land Report. Andy recently told me that after experiencing a downward period in the land market the likes of which he's never seen before, he is finally seeing signs of things turning around for land deals in his neck of the woods.
We asked Andy if he would mind us picking his brain a little bit, and he obliged.
Land Report: What got you into the land business, and how long have you been at it?
Andy Smyth: I was born into it. My great-grandfather Smyth sold his farmland near North Platte, Nebraska and moved to the Boise Valley in 1905. He, my grandfather, my father, and I farmed in this valley from then until the spring of 2008, when I retired from active farming after 34 years. My endeavor in real estate marketing began about 12 years ago as a diversification to my farming business. It seemed a natural outgrowth to my many years of involvement in various agricultural organizations and community service organizations throughout the state of Idaho.
Land Report: What's are the biggest changes you have seen in your 12 years of marketing property?
Andy Smyth: The first was the run-up in land values beginning in the mid-'90s that lasted until about the first half of 2008. The second was the decline in activity from then until very recently. During the first period I referred to, it was fairly easy to move land parcels. Since the end of '08 and beginning of '09, it has become very difficult to move large parcels. It now requires a high level of persistence and focused advertising to attract interested buyers with the ability to "write the check."
Land Report: You mentioned to me the other day that the market seems to be on the up-tick in your area. What are you experiencing?
Andy Smyth: In the last month, mid August until today, I have received more inquiries than I received since the first of the year. I have had several investor groups contact me with inquiries about large parcels. I have had numerous individuals inquire about agricultural properties for investment and primary use purposes. I have had two ranch showings in the last 10 days and another scheduled for the end of this week. I have had four inquiries in the last 24 hours. I have not closed a deal as a result of this activity, but if this rate of inquiry continues, there is bound to be a resulting close coming. I am confident.
Land Report: Tell us about some of your top current listings.
Andy Smyth: I have a number of ranch/recreational/investment quality properties available.
– A 6,080 deeded acre parcel within 1.5 hours of Boise is an exceptional property offering outstanding hunting of all types. It contains 700 acres BLM permanent lease acres adjacent. It is one contiguous parcel in a private setting. Year-round stream, 300-acre reservoir within 1/4 mile of boundary. No buildings.
– A 1,700 deeded acre parcel, offering adjacent permanent lease land access to an additional 5,600 acres. This is a beautiful parcel offering timber at higher elevations and year-round streams. Home, shop, etc.
— 2,646 deeded acres. 1,640 acres BLM permanent lease adjacent. 2 mile by 2.5 mile parcel running to the top of an 8,748 foot peak. Great hunting, access. Irrigation well. Home, shop, etc.
Pictures, more information on these parcels, other available properties at www.smythfarms.com
Land Report: What do you consider your unique strengths as a listing broker?
Andy Smyth: My many years as an active, full-time farmer myself, allows me to fully understand the elements involved in selling the family farm or ranch. I am able to empathize in a way that some brokers can't. My priority as the listing agent is to protect the interests of the party selling their ranch or farm. I spend the money required to advertise in a way that many brokers do not. Representing the type of property that I do, requires a willingness to advertise in venues where the folks who have an interest in this type of property and who can "write the check" may be found. Not all brokers do this.
That's why I advertise in The Land Report. It's an invaluable tool in securing new listings. It is an impressive, high quality publication. When a potential listing client sees my ads in recent issues of The Land Report, it is obvious to them that my commitment to represent their property in a serious way is beyond question.
Land Report: From the buying side, what does your brokerage offer newcomers to your markets?
Andy Smyth: I come from a world where a person's word is their bond. My role, as someone helping a potential customer select a property, is to provide honest, straightforward information. My responsibility is to provide correct, unbiased answers to their questions so they can make an informed decision regarding what is in their best interests. I take my role and responsibilities very seriously.
My long history in the circles of the ranch and farm community can be very helpful. There are often properties which may be for sale that are not listed or being actively marketed. I also offer financing sources for folks who may not be able or want to write a check for the full amount at closing, but who may have the ability to secure financing for this type of property.