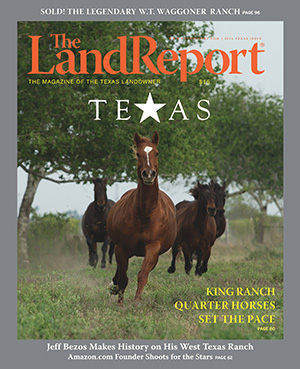 Our in-depth profile of this storied equestrian tradition was penned by Henry Chappell and features photography by Wyman Meinzer as well as from the King Ranch Archives.
King Ranch's 2015 acquisition of The Boon from Alice Walton's Rocking W Ranch has spurred renewed interest in the iconic ranch's Quarter Horse Division, whose heritage includes such legendary names such as Old Sorrel, Wimpy, Mr. San Peppy, and Peppy San Badger, among others. Written by Henry Chappell and photographed by Wyman Meinzer, "Horse Power" ranks as the longest profile ever to run in The Land Report and is augmented by historical photography from the King Ranch Archives. Also featured in the 2016 Texas issue, which is sponsored by Republic Ranches, is the Texas 10, a complete rundown of the Lone Star State's leading private landowners.
Click here to read more.