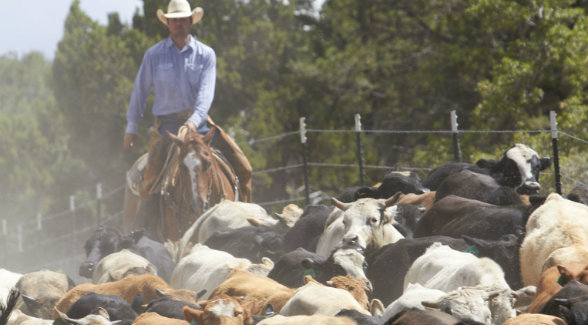 By Corinne Garcia
WHY DO SO MANY absentee ranch owners – those fulfilling a dream of owning a ranch for business and recreational purposes – cash out after a brief hold of just five to seven years?
"Because their ranch has become an alligator," says broker and cattleman Chris Jeffrey. "Every time they turn around, their ranch manager says they need to buy this or write a check for that. Sooner or later, they get tired of burning through cash with little or no financial return."
Chris and Melinda Jeffrey believe they have built a better mousetrap. Its roots lie in the Montana land brokerage and cattle operation they have grown over the last 25 years. Ease of operation and maximum profitability are its hallmarks. Their goal is to enable a new ranch owner to create a valuable cattle business, which in turn stokes the land values of their ranch.
Thistledew Montana Grasslands markets working ranches with a strong recreational component that can become multi-generational legacy properties. The secret sauce is the long-term management and consulting plan the Jeffreys share, one that positions new ranch owners for success and longevity.
"One of the reasons we started our company is so people who don't have a lot of cattle experience can enter the industry, experience a high level of success, and have someone behind them to help them along the way," Chris says. "We're not just a land company or cattle company. We have created synergy between the two where one helps the other not only in cash returns but also in increased land value."
Their Montana Grasslands Heifer Project focuses on creating healthy grasslands as well as a grazing management plan to promote them. Once the plan is implemented, a Thistledew cattle operation is about as simple and self-managed as it gets.
"The more you run with Mother Nature, the more you profit in the cattle business," he says. "We help our clients simplify, focus, and develop a niche market that has low overhead. This allows a ranch owner to minimize what rusts, rots, or depreciates. That farm equipment is what eats you alive."