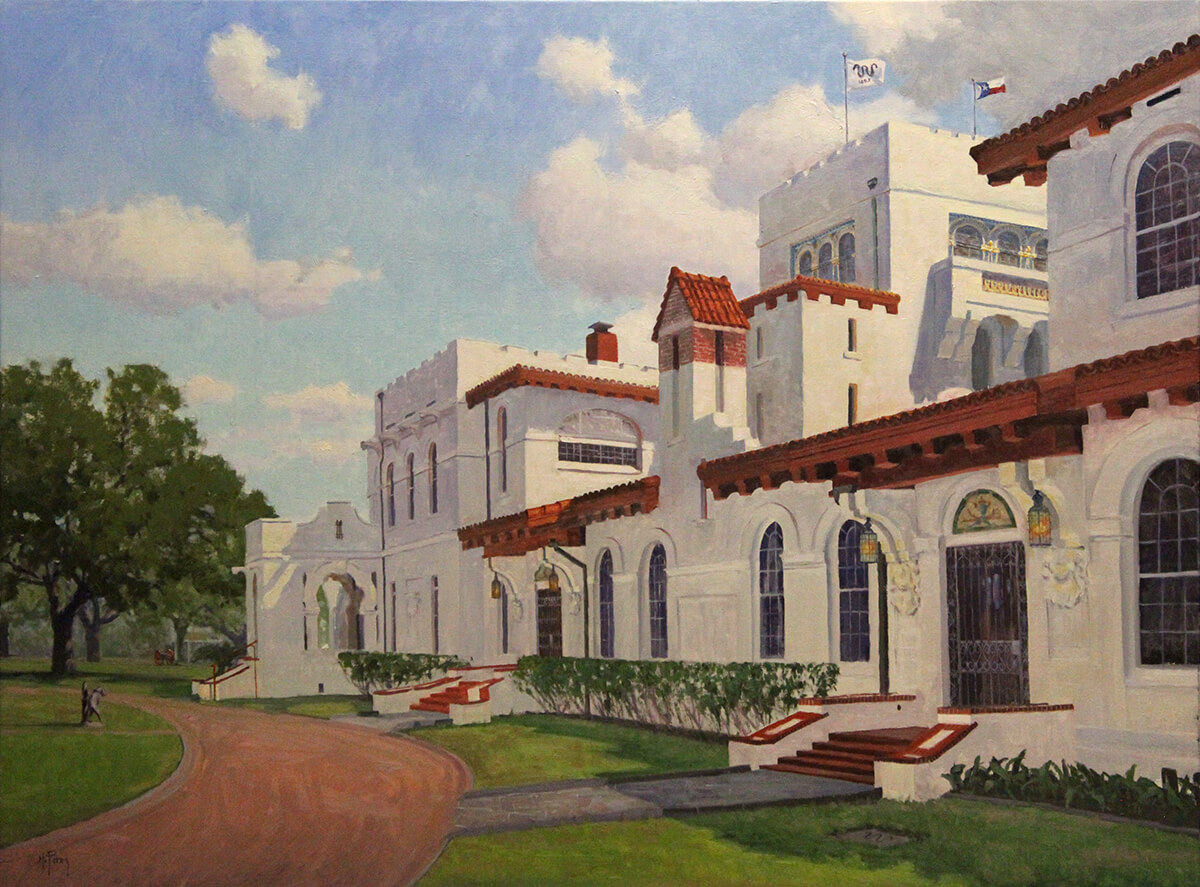 King Ranch chose to celebrate the centennial of the current Main House by commissioning an original painting. It's a tradition that harkens back to the grand estates of Europe. King Ranch has long used artwork to document and celebrate its rich history, which dates back to the 1850s. To paint this milestone portrait, the family chose a native son of the Wild Horse Desert, an artist with a deep affection for and understanding of the distinctive landscape of South Texas.
Is it any wonder then that the single oil painting completed in 2015 morphed into a multiyear project resulting in both a book and a much lauded exhibition at San Antonio's Witte Museum? Everything is indeed bigger in Texas.
Published in the fall of 2021 by Texas A&M University Press, King Ranch: A Legacy in Art features 65 paintings and studies created by Noe Perez, an artist in the tradition of venerable 19th- and 20th-century Texas impressionists such as Julian Onderdonk, Porfirio Salinas, Jose Arpa, Robert Wood, and Dawson Dawson-Watson.
Perez spent much of the COVID-19 pandemic painting scenes and vignettes from King Ranch inside the converted garage studio of his Corpus Christi home. He describes the entire endeavor as a delight, culminating in the show at the Witte that debuted in December.
"I admit I had some sleepless nights before the opening," Perez says, "but it was one of the best nights of my life, a dream come true."
The acclaimed exhibition, which wrapped up its run in March, drew thousands of visitors, many from South Texas.
"Noe's landscapes are authentic and serve as a reminder of the beautifully rugged
place that is King Ranch," Jamey Clement Jr. writes in the foreword. A fifth-generation family member, Clement was chairman of the board of King Ranch, Inc. when the book was commissioned."I can think of no better artist to provide an inside view of our family home and convey in a small way why we are so proud of it and its legacy," Clement says. "This is where I grew up and where I want to be. I don't travel to the mountains or travel to other different places.
"I go to King Ranch.
"I can think of no better artist to provide an inside view of our family home and convey in a small way why we are so proud of it and its legacy."

— Jamey Clement Jr.
For Perez, the book and the show represent the culmination of a lifetime of study, practice, and perseverance. The 64-year-old artist can barely recall a time when he didn't have a crayon, pencil, or paintbrush in hand. During his junior high school years, he took private lessons with a local artist who introduced him to oil paints. The instructor also helped him hone his sense of color, something that would prove an enduring hallmark of his work.
"I've been experimenting and developing as an artist ever since," says Perez, whose father cowboyed on various South Texas ranches. "Painting has always been in the back of my consciousness always."
At Texas A&M-Kingsville, Perez trained as a civil engineer. He continues to work in the energy industry. Despite the rigors of his profession and family life, he always manages to find time to create art.
Perez began developing a following decades ago. His devotees include Clement. The retired chairman first encountered the artist's romantic landscapes at a gallery in Kingsville.
"It's almost like an addiction," says Clement, who grew up on the 825,000-acre ranch and subsequently returned as an adult to work for King Ranch, Inc. "I think I have 20 to 30 of Noe's paintings. They're in my home, my children's homes, my mother's home, my office. Basically, wherever I can find wall space."
Reaves Fine Art in Houston began representing Perez's work in 2010, a move that exponentially widened his audience. Perez's relationship with William and Linda Reaves flourished even after they sold their Westheimer Road gallery to Sarah Foltz, the proprietor of Foltz Fine Art in the same locale. When it came to create King Ranch: A Legacy in Art, the couple, who co-edit various art publications, served as both shepherd and matchmaker.
With full support from Clement, immediate past president and CEO Robert Underbrink, and the rest of the ranch leadership, the Reaveses pitched the project to Texas A&M Press. From there, the duo assembled a team of writers that includes longtime King Ranch historian Bob Kinnan. Bruce Shackleford and Ron Tyler, both renowned experts in Texas art history, also contributed insightful essays.
Bill Reaves, who classifies Perez as a contemporary Texas regionalist, asserts that his paintings will stand the test of time. "Even some of our clients who were diehard collectors of only deceased artists like Onderdonk or Salinas felt an immediate connection to Noe's work," Reaves says.
Perez typically completes 20 paintings a year, a pace that demands focus, discipline, and confidence in his creative vision. For his larger works, which sell in the low five-figures, he stretches the linen himself. His compositions can seem surprising — a windmill in profile, the Main House of the ranch rising behind two grazing Quarter Horses, a country path cutting through an oak motte. His prodigious talent means even a humble fence evokes time and place.
When it came to the King Ranch paintings, Clement, Kinnan, and various family members gave Perez suggestions about the subjects he should feature, including the Carriage House and other landmarks spread out over the ranch's four divisions: Santa Gertrudis, Laureles, Encino, and Norias. The artist, however, enjoyed free rein to paint the scenes in the manner of his choosing.
Perez didn't visit King Ranch until 2014 for the Main House commission, though he grew up hearing stories about the legendary birthplace of American ranching. In support of the book project, he made dozens of trips to the ranch over a two-year period. He photographed scenes from dawn to dusk and then painted them in his home studio.
Never did the vastness of King Ranch cease to astound him. "We would drive and drive and drive," he recalls, noting that someone, often Kinnan, accompanied him to make sure he wouldn't get lost on the backroads.
"The size of the place is almost hard to believe," he says.
"The tradition of bringing artists to the ranch dates to Henrietta King, something the storied ranches of Texas did before photography. The fact that King Ranch continues that legacy of art is so inspiring."

— Marise McDermott, The Witte Museum
Could Richard King (1834-1885) have imagined that seven generations of his descendants would maintain the family ranch, which today boasts a combined acreage greater than the state of Rhode Island? He must have appreciated the boundless possibilities of America, particularly the rugged Southwest. At age 11, this youngster born in New York City to Irish immigrants stowed away on a ship bound for Mobile, Alabama. As a teenager, he earned his pilot's license and became a captain, a title he embraced for the rest of his life.
A fellow pilot named Mifflin Kenedy, whom he'd met during Florida's Seminole War, recruited him to South Texas to help with his large flotilla of steamboats that supplied the US Army during the Mexican War (1846-48). In peacetime, King planted roots in the new state, buying two land grants totaling 68,500 acres in 1854 with a partner.
In the years leading up to the Civil War, Captain King and his bride, Henrietta Chamberlain, grew their family and ranch. According to Kinnan, the patriarch also created the foundation for the ranch's history-making equestrian division, paying immense sums for well-bred studs to bolster the quality of native mustangs.
Between 1869 and 1884, King and his crew of Kineños — loyal ranchhands he recruited from the little hamlet of Cruillas in Northern Mexico — shipped more than 100,000 head of cattle to Kansas, Missouri, Illinois, and Louisiana.
By the time of his death, King had amassed nearly 615,000 acres. Stewarding such a massive operation never proved easy, but the ranch faced a true crisis upon Henrietta King's passing in 1925.
Estate taxes compelled her heirs to strike a landmark lease with Humble Oil for mineral rights on the ranch. Through it all, including a 1912 fire that destroyed the original Main House, the family kept meticulous records. Art played a role, too.
"The family has brought in prominent artists to depict the ranch over the years including James McCan, Louis Ludean, and Tom Lea," says Bruce Shackleford, a Witte curator and Antiques Roadshow appraiser who also contributed a chapter to the book. Shackleford also selected which of the Perez paintings to feature on the walls of San Antonio's Witte Museum.
The Witte has enjoyed a long relationship with King Ranch. "The tradition of bringing artists to the ranch dates to Henrietta King, something the storied ranches of Texas did before photography. The fact that King Ranch continues that legacy of art is so inspiring," says Witte CEO Marise McDermott.
Today, King Ranch spans nearly 40 miles inland to the coast with terrain that ranges from black dirt to sand dunes, wetlands, and prairies. "It's sparsely populated, but some believe there is more flora and fauna in South Texas than even in Florida," Clement says.
Each element of the landscape — the scrub, the horses and cattle, the gates, the water, the endless skies streaked with clouds — fueled Perez's imagination.
"At the show's opening, there were family members who were literally teared up over these paintings," Shackleford says. "That's a great thing that art does."
Ron Tyler, the former director of Fort Worth's Amon Carter Museum of Art and professor of history at the University of Texas at Austin, notes how Perez captures the "brilliant" South Texas light.
"In Spring Flowers at Encino, he dampens the colors a bit so that the yellow of the summer flowers and the green of the mesquite trees seem more vibrant, while the sky is still a muted but lucent blue," writes Tyler.
For Clement, one painting that especially resonates depicts a mother cow in a pasture. Perez titled it Ladinas. "They all have this nervous gait or strut when they are coming to protect their offspring," he says. "Noe perfectly captured that with her head up and her chest out."
Of the 43 paintings for the project, Perez feels a particular affinity for those where oak trees play a strong role, including the painting on the book jacket cover, Drifting Manada (Santa Gertrudis).
"I could do a whole book on oak trees," Perez says.
A final painting anchors the back cover. Kineños (La Corrida) depicts 14 ranch hands poised in two lines with all but four of the Kineños on horseback. Inspiring the piece was a black-and-white photo from the 1960s that Kinnan discovered in the King Ranch archives. Perez's evocative interpretation begs the question of why the artist considers himself a landscape rather than figurative painter.
The museum and family fielded interest from other institutions about hosting the collection of paintings. The collection will travel as a group before likely making its permanent home at King Ranch. In the meantime, anyone can relish the book with its sumptuous images along with insights into the history of what many describe as one of the most important ranches in the world.
"The book is really a tribute to a family," Kinnan says. "There continue to be great challenges, but the family has come together and held it together with each successive generation improving on what came before them."
Clement offers a different take, expressing gratitude for the work of his forebears, which enabled this inimitable asset to remain vital today.
"When you are in ranching, your land is your factory, and if you don't protect your land, you can't be in business," he says. "The fact that we are here almost 170 years later is a testimony to the job we've done of being environmentally sound and good stewards of this beautiful land."
Published in the 2022 Land Report Texas Special Issue.