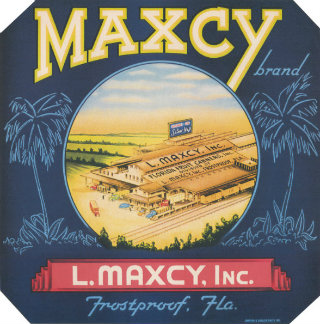 End of an Era.
By Cary Estes
There was one last bit of juice left in the sprawling holdings accumulated by Florida citrus pioneer Latimer "Latt" Maxcy.
Maxcy (1887–1971) was one of the first entrepreneurs to plant large tracts of citrus groves in the Sunshine State. Profits from those operations enabled him to acquire more than 150,000 acres in Central Florida that he used for cattle and even more citrus.
This acreage, which remained under the control of his family after Maxcy's death, has slowly been divested. The final portion – the 38,453-acre El Maximo Ranch in southwest Osceola County – sold last year for $136.5 million to a joint venture between the Investment Corporation of Dubai and Argentine agribusiness firm Optimum Agriculture. It ranks as one of the largest contiguous ranches in the Southeast.
"It was a complicated transaction, and we are honored to have worked with Optimum Agriculture, the investment manager, and all the other professionals on this transaction to bring about a successful conclusion for both the buyer and seller," said Ken Nofziger of Murray Wise Associates. Crosby & Associates was another transactional advisor.
In a news release, Ben Crosby said, "A ranch of this size provides an excellent opportunity for the buyer to create a platform for future expansion in the Southeast. It's historically been utilized as a cattle ranch with various crops throughout the years, and has water permits that could allow for plenty of options in alternative crops and biofuel feedstock farming."
Coincidentally, the sale price of $136.5 million was the same amount that the Latt Maxcy Corporation grossed in 2005 when it sold 27,400 acres of ranchland to Subway cofounder Fred DeLuca and Anthony Pugliese of The Pugliese Company.
Dean Saunders of Saunders Real Estate advised the company on both the 2005 and 2018 sales.
"I've been fortunate to have been a part of several blockbuster deals, but my work with Latt Maxcy Corporation has always stood out," Saunders says. "The fact that Mr. Maxcy started out with 80 acres and built an empire from the Kissimmee River to Vero Beach still amazes me."
Land Report 2018 Ranchland Deal of the Year: El Maximo Ranch
SELLER | Latt Maxcy Corporation
BUYERS | Investment Corporation of Dubai and Optimum Agriculture
TRANSACTIONAL ADVISORS
– Ben Crosby, ALC, Crosby & Associates
– Dean Saunders, ALC, Coldwell Banker Commercial Real Estate
– Murray Wise, ALC, Murray Wise Associates