2020 Land Report Texas Issue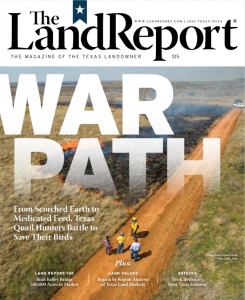 A slew of must-read stories in our 2020 Texas Issue including:
Hunting for a Cure: Henry Chappell's in-depth cover story goes behind the scenes at the Rolling Plains Research Ranch to analyze the decades-long effort by Texas quail hunters and the team of researchers working with Dr. Dale Rollins to counter the deadly drop in quail numbers statewide.
Brad Kelley Brings Over 500,000 Acres to Market: One of America's leading landowners, this Land Report 100er lists a Texas-sized portfolio of ranches for a cool $500 million.
Conservation's Greatest Night: Dallas's Carl Allen of Allen Exploration is honored by the Park Cities Quail Coalition with the 2020 T. Boone Pickens Lifetime Sportsman Award.
Texas Land Values: Land values moved up statewide in 2019 to just below $3,000 per acre. Check your land's value with regional figures courtesy of the Real Estate Center at Texas A&M.
For up-to-the-minute reports on breaking news, be sure to follow us on Facebook, Twitter, Pinterest, and Instagram.
Subscribe to our
monthly newsletter