Land Report April 2016 Newsletter
Land Report April 2016 Newsletter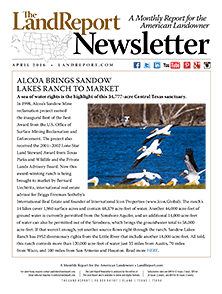 New listings dominate our April newsletter, including Sandow Lakes Ranch in the heart of Central Texas. The 33,777-acre property is a multi-use powerhouse with substantial ag and hunting and the most water rights on the market in Texas today. Other featured listings include:
New Mexico's 74,000-acre Alamo Ranch, listed by Jeff Buerger at Hall and Hall.
Florida's 13,924-acre Southern Cattle Company, listed by Jon Kohler of Jon Kohler & Associates.
John Paul DeJoria's 96-acre Texas Hill Country estate, colisted by Horizon Realty's Gregg Sellers and Dave Murray of DMTX Realty.
For up-to-the-minute reports on listings, auctions, sales, and breaking news pertaining to land and landowners, be sure to follow us on Facebook, Twitter, Pinterest, Google+, and Instagram.