Land Report August 2014 Newsletter
Land Report August 2014 Newsletter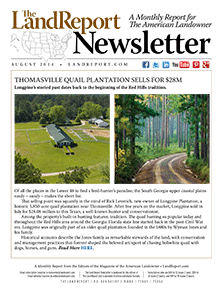 Stewards of the land are the highlight of our August 2014 Newsletter.
In Georgia, an iconic Thomasville holding, Longpine Plantation, fetches $28+ million.
In Maine, $9 million is designated for conservation and habitat improvement.
Longleaf pine restoration benefits from more than $7 million in grants.
For up-to-the-minute reports on listings, auctions, sales, and breaking news pertaining to land and landowners, be sure to follow us on Facebook, Twitter, Pinterest, and Instagram.