Land Report August 2016 Newsletter
Land Report August 2016 Newsletter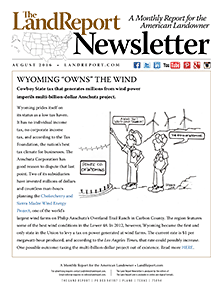 Ever heard of a wind tax? Probably not. That's because only one state has one: Wyoming. Although the Cowboy State claims to be a low tax haven, it imposed the nation's lone tax on power generated by wind turbines in 2012. Not surprisingly, landowners, small business owners, and investors do not see this as a business-friendly policy. Read all about it in the August newsletter. Other stories include:
The Navajo Nation sues the EPA
Apple's former chairman lists the largest ranch in Carmel Valley
An important conservation win near Steamboat Springs
The sale of two key Florida properties
For up-to-the-minute reports on listings, auctions, sales, and breaking news pertaining to land and landowners, be sure to follow us on Facebook, Twitter, Pinterest, Google+, and Instagram.