Land Report December 2012 Newsletter
Land Report December 2012 Newsletter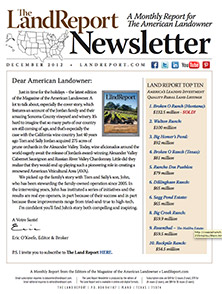 Record auction numbers, landmark transactions, sky-high ag exports – what a way to end the year! 2012 is wrapping up on a high note, and we've got stories to prove it.
Our December newsletter features all of the above – as well as a sneak peek at the winter issue of The Magazine of the American Landowner.
For up-to-the minute reports on listings, auctions, sales, and breaking news pertaining to land and landowners, be sure to follow us on Facebook, Twitter, and Pinterest.