Land Report December 2014 Newsletter
Land Report December 2014 Newsletter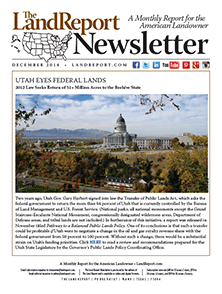 Take a look at our December newsletter – full of compelling news and notes such as:
Which member of The Beatles is selling his Aspen horse ranch?
Which avian species has Congress refused to protect?
Which presidential hopeful will be addressing landowners in January?
Which western state seeks to take title to more than 31 million acres of federal land?
For up-to-the-minute reports on listings, auctions, sales, and breaking news pertaining to land and landowners, be sure to follow us on Google+, Facebook, Twitter, Pinterest, and Instagram.