Land Report December 2016 Newsletter
Land Report December 2016 Newsletter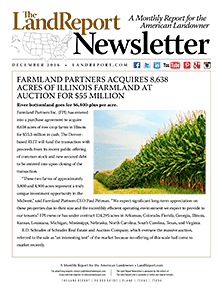 The New Year is knocking on the door, but that hasn't slowed the pace of transactions in the last month of 2016, including:
The acquisition of 8,638 acres of Illinois bottom land by Farmland Partners Inc. for $55 million.
The sale of 640 acres of Wyoming School Trust Land for $46 million.
Be sure to mark Feb. 3 on your calendar. That's the date of Peoples Company 10th Annual Land Investment Expo in Des Moines.
For up-to-the-minute reports on listings, auctions, sales, and breaking news pertaining to land and landowners, be sure to follow us on Facebook, Twitter, Pinterest, Google+, and Instagram.