Land Report February 2013 Newsletter
Land Report February 2013 Newsletter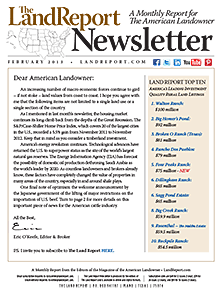 Landowners coast to coast are applauding the efforts of Ag Secretary Tom Vilsack and U.S. Trade Representative Ron Kirk. Their achievement?
Getting Asia's largest beef importer to ease restrictions on American cattle. In 2003, the Land of the Rising Sun closed the door on all U.S. beef following the discovery of a single instance of bovine spongiform encephalopathy (BSE) in Washington State. It took a decade but the Japanese Ministry of Agriculture, Forestry and Fisheries has relented and is allowing more U.S. beef to be exported to Japan.
Our February newsletter features more details on this crucial news that will positively impact landowners, cattlemen, and beef companies nationwide. Also available is a link to the Agreement itself.
For up-to-the minute reports on listings, auctions, sales, and breaking news pertaining to land and landowners, be sure to follow us on Facebook, Twitter, and Pinterest.