Land Report January 2012 Newsletter
Land Report January 2012 Newsletter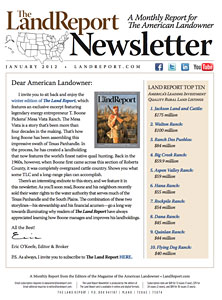 Here's a great way to start your year: the January edition of The Land Report newsletter.
This issue is chock full of stories and links to essential resources, including the Winter 2011 issue of The Land Report and of course January's Land Report Top Ten.
As you might imagine, December wrapped up with a slew of end-of-the-year closings, and several key ones are detailed in the January newsletter, including the sale of Montana's Horse Ranch and the sealed-bid auction of the Robert Mondavi Estate in Napa.
For more up to the minute reports on listings, auctions, sales, and breaking news pertaining to land and landowners, be sure to follow The Magazine of the American Landowner on Facebook and Twitter.
P.S. Our award-winning quarterly magazine is available in a print version via subscription.