Land Report January 2013 Newsletter
Land Report January 2013 Newsletter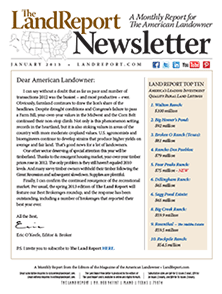 Secretary of the Interior Ken Salazar announces his plan to leave Washington and return home to Colorado. The Supreme Court agrees to hear a dispute between Texas and Oklahoma over water rights. And the State of Texas, on a completely different matter, asks the Nation's highest court to intervene in yet another water fight, one that involves Texas and another neighbor, New Mexico.
So much for a slow start to 2013. Our January newsletter features these news items and as well as others, including Land Report 100er Louis Bacon's timeless gift to establish the Sangre de Cristo Conservation Area in Southern Colorado.
For up-to-the minute reports on listings, auctions, sales, and breaking news pertaining to land and landowners, be sure to follow us on Facebook, Twitter, and Pinterest.