Land Report July 2012 Newsletter
Land Report July 2012 Newsletter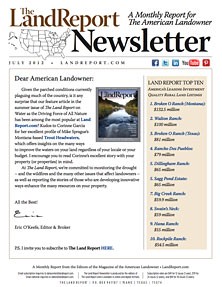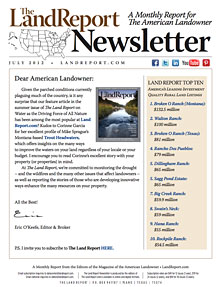 WATER. Thanks to the ongoing drought and a spate of wildfires, it's a top priority for landowners from coast to coast this summer.
Be sure to check out ways to improve your waters courtesy of the Summer issue of The Magazine of the American Landowner. Mike Sprague at Trout Headwaters shares a variety of different ways to use water to add beauty – and value – to your property, and many of the improvements he suggests are low cost or no cost. Read more HERE.
For up to the minute reports on listings, auctions, sales, and breaking news pertaining to land and landowners, be sure to follow us on Facebook, Twitter, and Pinterest.