Land Report July 2014 Newsletter
Land Report July 2014 Newsletter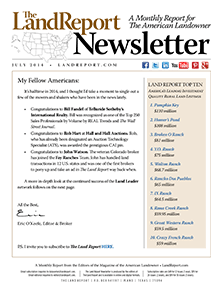 So much to talk about in our July 2014 Newsletter.
Which broker network just added nine brokerages?
Why are landowners driving the bus on the Keystone XL pipeline?
And what nationally known ranch frequented by the likes of Elton John and Michael Jackson just sold for $32.5M?
For up-to-the-minute reports on listings, auctions, sales, and breaking news pertaining to land and landowners, be sure to follow us on Twitter, Facebook, Pinterest, and Instagram.