Land Report July 2015 Newsletter
Land Report July 2015 Newsletter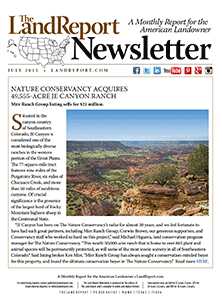 Plenty of bold-faced headlines in our July newsletter, including the designation of three new national monuments and a key lawsuit against the U.S. Forest Service. Other items include:
The Nature Conservancy's acquisition of Colorado's JE Canyon for $21 million;
The $29.5 million listing of Villa Santa Lucia in Santa Barbara County;
The upcoming auction of Richard Fuld's Sun Valley estate (est. $30-$50 million);
The $1.3 million sale of Greenwood Plantation's historic antebellum main house.
For up-to-the-minute reports on listings, auctions, sales, and breaking news pertaining to land and landowners, be sure to follow us on Google+, Facebook, Twitter, Pinterest, and Instagram.