Land Report June 2013 Newsletter
Land Report June 2013 Newsletter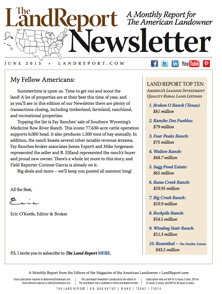 Summertime is upon us. Time to get out and scout the land!
From coast to coast, a lot of properties are at their best this time of year, and, as you'll see in our June Newsletter, there are plenty of transactions closing, including timberland, farmland, ranchland, and recreational properties.
For up-to-the-minute reports on listings, auctions, sales, and breaking news pertaining to land and landowners, be sure to follow us on Google+, Facebook, Twitter, and Pinterest.