Land Report June 2014 Newsletter
Land Report June 2014 Newsletter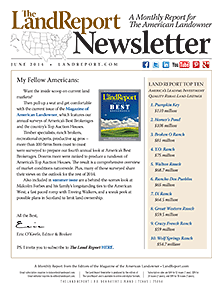 Too many items to discuss in the June 2014 Newsletter. Among the high points?
A major judicial decision that will impact landowners nationwide.
Rising beef prices and increased crop yields continue to stoke land values.
And a first look at the digital version of our Summer issue.
For up-to-the-minute reports on listings, auctions, sales, and breaking news pertaining to land and landowners, be sure to follow us on Twitter, Facebook, and Pinterest.