Land Report June 2015 Newsletter
Land Report June 2015 Newsletter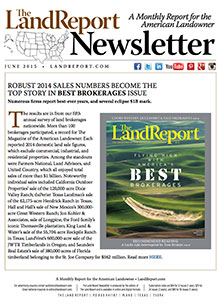 The Magazine's fifth annual survey of land brokerages nationwide headlines our June Newsletter. More than 100 brokerages participated, a record for The Magazine of the American Landowner. Other top stories include:
David Rockefeller's 1,000-acre donation of prime property in Maine
The acquisition of California's Carr Ranch by the John Muir Land Trust
The listing of the $100 million Sycamore Valley Ranch by Suzanne Perkins
For up-to-the-minute reports on listings, auctions, sales, and breaking news pertaining to land and landowners, be sure to follow us on Google+, Facebook, Twitter, Pinterest, and Instagram.