Land Report March 2016 Newsletter
Land Report March 2016 Newsletter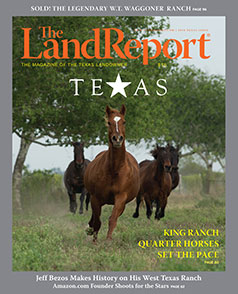 King Ranch's 2015 acquisition of The Boon from Alice Walton's Rocking W Ranch has spurred renewed interest in the iconic ranch's Quarter Horse Division. The Land Report is proud to feature this cover story in the Magazine of the Texas Landowner, sponsored by Republic Ranches, in our March newsletter. Other news items include:
Farmland Partners (FPI) closes a $197 million transaction featuring 118 Illinois farms.
New Mexico Game & Fish permits Ted Turner's Ladder Ranch to hold Mexican gray wolves.
California's Eagle Ranch donates a 3,255-acre conservation easement near Atascadero.
For up-to-the-minute reports on listings, auctions, sales, and breaking news pertaining to land and landowners, be sure to follow us on Facebook, Twitter, Pinterest, Google+, and Instagram.