Land Report March 2018 Newsletter
Land Report March 2018 Newsletter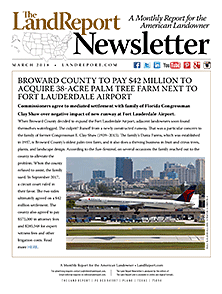 The Magazine of the American Landowner offers a full slate of stories this month, ranging from donated land to syndicated interests to hedge fund acquisitions.
Broward County to pay $42 million to longtime landowners.
The IRS scrutinizes syndicated conservation easements for potential abuse.
Rayonier sells 11,000 acres of Florida timberland for $39.8 million.
Harvard bet the farm in Brazil — and lost. The nation's largest college endowment takes a $1B write-down.
For up-to-the-minute reports on listings, auctions, sales, and breaking news pertaining to land and landowners, be sure to follow us on  Facebook, Twitter, Pinterest, Google+, and Instagram.