Land Report Newsletter October 2010
Land Report Newsletter October 2010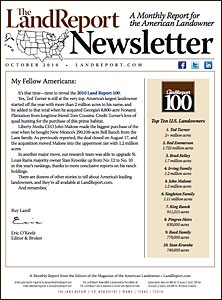 The Land Report 100!
Our signature study featuring the Top 100 American landowners is the focus of this issue of our monthly newsletter, but it's just one of the many topics to be covered, including recent sales, upcoming auctions, and important developments by policymakers with regard to owning land.
Feel free to forward the October edition of The Land Report's monthly newsletter to colleagues as well as those interested in investing in land.
P.S. Our award-winning quarterly magazine is available in a print version by subscription.