Land Report November 2012 Newsletter
Land Report November 2012 Newsletter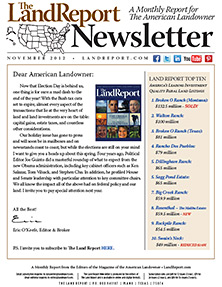 The Presidential Election. The Fiscal Cliff. The Farm Bill.
Does it seem to you like all the roads off your property eventually wind their way to Washington, D.C.? It does to us.
Go behind the scenes with our November newsletter to get a better idea of what's in the works. We've got ways for you to access key white papers, demographic trends, and policy updates.
For up-to-the minute reports on listings, auctions, sales, and breaking news pertaining to land and landowners, be sure to follow us on Facebook, Twitter, and Pinterest.