Land Report November 2013 Newsletter
Land Report November 2013 Newsletter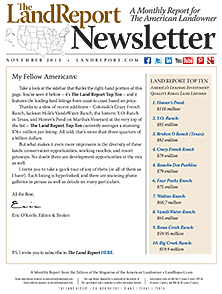 Three-quarters of a billion dollars. That's the sum total of The Land Report Top Ten, which tracks the nation's leading land listings by price. Our monthly tabulation reveals that America's top properties can be found in all corners of the country, including the Massachusetts coast, the Colorado Rockies, and two each in the Texas Hill Country and the Jackson Hole area.
Our November newsletter features hyperlinks to each of The Land Report Top Ten, and it also includes updates on expos, auctions, and sales.
For up-to-the-minute reports on listings, auctions, sales, and breaking news pertaining to land and landowners, be sure to follow us on Google+, Facebook, Twitter, and Pinterest.