The Land Report Spring 2011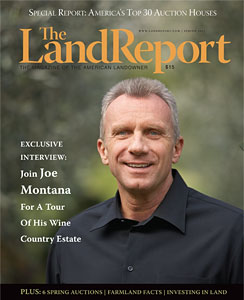 NFL Hall of Famer Joe Montana headlines the Spring 2011 issue of the Magazine of the American Landowner with an exclusive interview. Travel to Sonoma County for a behind-the-scenes look at Villa Montana, the stunning 503-acre estate that has been the Montana family's wine country getaway since Joe's retirement from the NFL.
Also in the spring issue, a Special Report on America's Top 30 Auction Houses. This annual rundown features the nation's leading auctioneers and is an indispensable resource for anyone thinking of investing in land.


Subscribe to our
monthly newsletter