The Land Report Spring 2013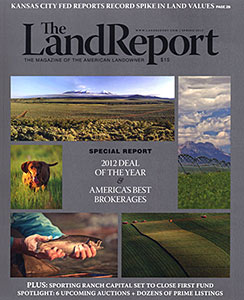 An exceptional amount of research went into our Spring issue. To begin with, there is our third annual survey of America's Best Brokerages, which features an in-depth look at the leading firms that specialize in land. In addition, there is not one, not two, but three Deals of the Year!
The first is the 2012 Conservation Deal of the Year: the sale of the Devils River Ranches in Val Verde County, Texas. The second is the 2012 Public Lands Deal of the Year: the sale of the Moriah Ranch in Albany County, Wyoming. Last but not least is the 2012 Land Report Deal of the Year: the sale of Montana's Broken O Ranch.
For more up to the minute reports on listings, auctions, sales, and breaking news pertaining to land and landowners, be sure to follow The Magazine of the American Landowner on Facebook, Twitter, and Pinterest.
Subscribe to our
monthly newsletter