The Land Report Spring 2019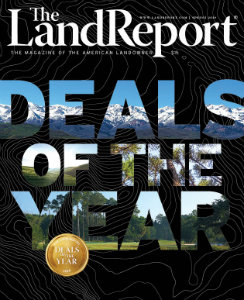 The Magazine of the American Landowner announces the 2018 Deals of the Year:
2018 Deal of the Year: A matchless alpine holding, Wasatch Peaks Ranch celebrates Utah at its best.
2018 Conservation Deal of the Year: A historic retreat since 1827, Cabin Bluff will now be preserved in perpetuity.
2018 Farmland Deal of the Year: Pieced together over the last 50 years, Weidert Farm finds a new steward.
2018 Ranchland Deal of the Year: The last remaining block of Latt Maxcy's Florida ranching empire, El Maximo, sells.
2018 Timberland Deal of the Year: CalPERS sheds more than 1.1 million acres of East Texas Timber for $1.39 billion.
2018 Auction Deal of the Year: The National Auctioneers Association honors Peoples Company for its South Dakota Farmland Auction.
Other great reads in this issue include:
Policy: American Soil is Increasingly Foreign Owned
Events: RLI's 2018 APEX Award Winners
BackGate: Valhalla Plantation Sells
Subscribe to our
monthly newsletter