The Land Report Summer 2011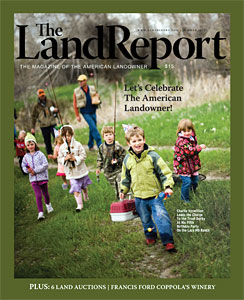 The Summer 2011 issue of the Magazine of the American Landowner is hot off the press. Enjoy this opportunity to learn the stories of three amazing properties and the landowners who shaped their destinies: Vermont's Teal Farm, Montana's Vermillion Ranch, and Oregon's Elk Song Ranch.
Also in the summer issue, learn how Academy Award winner Francis Ford Coppola completed his quest to resurrect the Queen of the Napa Valley, Captain Gustave Niebaum's renowned Inglenook Winery. And be sure to check out The Land Report Top Ten, the nation's priciest properties on the market today.

Subscribe to our
monthly newsletter