2019 Land Report Texas Issue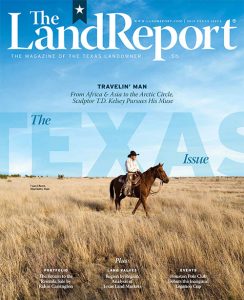 Our annual roundup of land and landowners in the Lone Star State is now available online. Must-read stories in the 2019 Texas Issue include:
T.D. Kelsey Profile: In "Travelin' Man," writer Henry Chappell and photographer Wyman Meinzer team up to share the one-of-a-kind talents of renowned sculptor T.D. Kelsey and his global quest for inspiration.
Return to the Remuda: The Magazine of the Texas Landowner dispatched Rahm Carrington to document the premier ranch horse sale hosted by the Four Sixes Ranch, Pitchfork Land and Cattle Co., Tongue River Ranch, Beggs Cattle Co. with guest consignors King Ranch and Wagonhound Land & Livestock.
Texas Land Markets: See how land values in your corner of Texas changed in value during 2018 courtesy of the Real Estate Center at Texas A&M.
Explore Ranches: This innovative travel concept has opened the gates to 353,069 acres of private land across Texas and in the Rocky Mountains.
For up-to-the-minute reports on breaking news, be sure to follow us on Facebook, Twitter, Pinterest, and Instagram.
Subscribe to our
monthly newsletter