2021 Land Report Texas Issue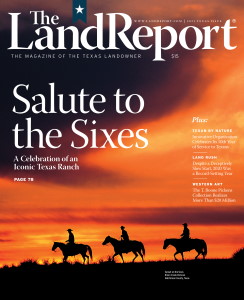 Presenting our 2021 Texas Issue featuring:
The Four Sixes Rides into New Territory: For the first time in more than 150 years, the great Texas ranch prepares to change hands. Henry Chappell and Wyman Meinzer report from the Sixes' King County headquarters.

Texan by Nature Celebrates a Decade: Founded in 2011 by Laura Bush, Katharine Armstrong, and Regan Gammon, this innovative organization has collaborated with more than 100 nonprofits, countless landowners, and business and industry partners to improve Texas one acre at a time.

T. Boone Pickens Collection: More than $20 million was realized when Christie's auctioned a significant portion of the Western art acquired by the legendary energy entrepreneur.
For up-to-the-minute reports on breaking news, be sure to follow us on Facebook, Twitter, Pinterest, and Instagram.
Subscribe to our
monthly newsletter