2021 Ranch Deal of the Year – Murdoch Creates Matchless Montana Cattle Kingdom
2021 Ranch Deal of the Year – Murdoch Creates Matchless Montana Cattle Kingdom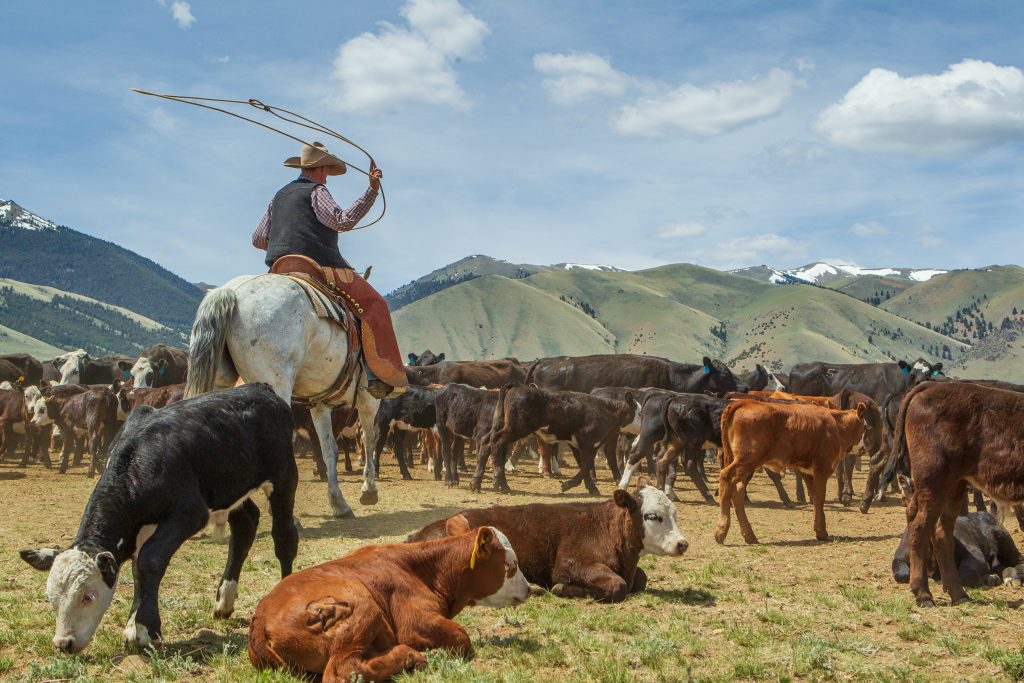 The sale of the Beaverhead Ranch by Matador Cattle Company is an epic event in itself, and that's before one considers the renown of both the seller and the buyer. A majestic swath of 340,000 deeded and leased acres that crosses three mountain ranges in Southwest Montana, the renowned cattle ranch comfortably carries 10,000 cow-calf pair. The wildlife component — elk, moose, mule deer, antelope, and countless other species — is its own biosphere. The water rights? Some of the most significant in the West.
"There are few comparable properties in Montana, not only from a production standpoint but also from a conservation and wildlife standpoint," says Chance Bernall of Beaverhead Home & Ranch Real Estate in Dillon, who shared the listing with Joel Leadbetter of Hall and Hall. "It is essentially its own ecosystem. It is really an important piece of property to our part of the world," Bernall says.
But what makes this deal truly stand out is the pair of hands who were doing the trading. On the sell side you had Charles Koch, longtime CEO of the multinational Koch Industries, whose father, Fred, purchased the ranch in 1951. Meanwhile, on the buy side was Rupert Murdoch, whose News Corp, operates media outlets worldwide, including Dow Jones & Company, News UK, News Corp Australia, Realtor.com, and HarperCollins Publishers.
With the help of Bernall and Hall and Hall, these two legends came together to sign off on a titanic transaction.
"Putting the deal together between the two of them was the easy part. They were great to work with," Hall and Hall's Tim Murphy says. "Doing the deal was the hard part. It was a load, just because it was so complicated with all these moving parts."
In 2020, John Wildin with Hall and Hall served as the listing broker on Matador Cattle Company's Spring Creek Ranch in Kansas. In addition, Hall and Hall Director Joel Leadbetter had worked with Bernall and were close friends, which is why he suggested they team up to co-list the Beaverhead Ranch.
"I thought that was the best of both worlds," Leadbetter says, "because you have Chance's local knowledge and history in the Beaverhead Valley, and then you have Hall and Hall's reach (as a national brokerage)."
Given the extraordinary nature of the property, it made sense to present it as an off-market listing. A limited pool of buyers could afford the nine-figure purchase price; therefore, a premium was put on discretion.  
"We were fishing in an extremely shallow pond," Leadbetter says. "Buyers had to register in advance, and all had a B in front of their net worth. We showed it on the ground to three prospects and were in conversation with less than 10."
One of those was the Australian native. The mountainous terrain so -characteristic of Beaverhead Ranch is -definitely a far cry from Murdoch's home turf in South Australia. Murphy says once Murdoch set eyes on the ranch, his curiosity turned into captivation. "It was fun introducing the place to him," Murphy says. "He didn't think he was going to go big (on an offer). But once we got there, Rupert took the bit in his mouth. There was no stopping him."
Murdoch's enthusiasm soon became crystal clear. Not only did he close on Beaverhead Ranch, but he acquired the adjacent Selkirk Ranch -— another outstanding property — and created one of the most significant cattle operations in the nation, capable of carrying 15,000 head on 405,915 operating acres (138,115 deeded). The landscape embraces almost the entirety of the Blacktail -Mountains, including the wilderness study area, the Snowcrest and the Centennial -Mountains, and their associated valleys.
Worth noting is one of the most important aspects of the transaction: a simple meal. On a cross-country flight, Murdoch stopped in at Koch Industries in Wichita, Kansas. What transpired next was a one-on-one lunch with Charles Koch.
"It put two faces with the deal," Leadbetter says. "It was important to Charles that it went to the right buyer, and it was important to Rupert to show that he was the right buyer. By having that private meeting, they were both able to see that."
Murdoch emphasizes his desire to protect the natural beauty of the ranch. "We feel privileged to become guardians of this pristine corner of Montana and will do all possible to preserve its fauna and flora," he said in a statement to The Land Report. "Within this, our ambition is to create a profitable low-carbon beef business. We will research emission-reduction technologies with the University of California, Davis, and further, will look to sequester soil carbon across the ranch utilizing the experience of asset managers Impact Ag Partners."
Leadbetter is certain that Murdoch is committed to this exceptional slice of Montana ranchland. "I don't think you could have a better owner," the veteran broker and Montana native says. 
Murphy adds, "He is so excited. It's a special place, and it's obvious that he genuinely appreciates that. It's not just a one-off asset to him. He's personally attached to it. He spends time in town. His family is really engaged in it. And he has a great team of people on and off the ranch to make sure it meets and exceeds his family's investment and personal goals of ranch stewardship."
Photography by Kenton Rowe