2023 Best Brokerages – National
2023 Best Brokerages – National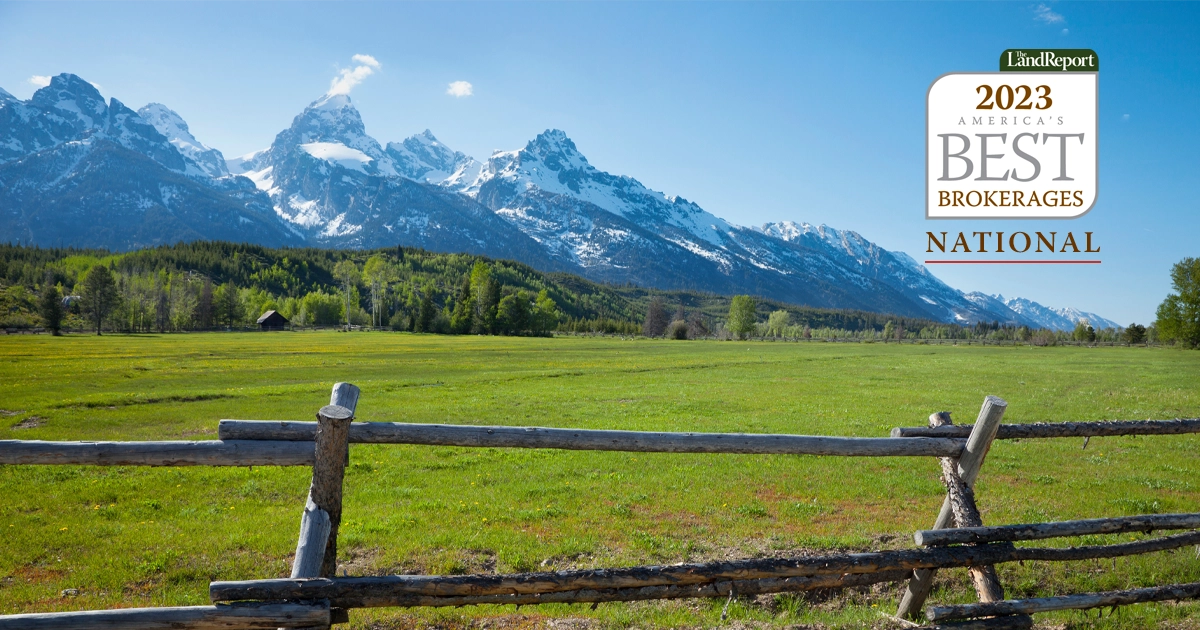 METHODOLOGY
The Land Report's annual survey of US land brokerages is based on the total value of self-reported 2022 domestic land sales through traditional brokerage. Totals exclude commercial, industrial, and residential assets, unless those assets were a component of a more valuable land asset. All figures were provided by respective firms from February 13 through March 31, 2023.
---
AFM REAL ESTATE/AMERICAN FOREST MANAGEMENT
AFMREALESTATE.COM (704) 527-6780 EXT. 322
2022 Sales: $500M–$1B
Who: We offer land-sale brokerage services along with a timberland consulting business. We specialize in selling rural properties, specifically timberland, farmland, recreation, and conservation properties.
WOW: Represented the seller in the sale of 31,000-acre Keweenaw Heartlands in the Upper Peninsula of Michigan. The sale allows the land to be conserved and to remain accessible for public use.
What was your take on 2022? It was another fantastic year. Despite the economic headwinds, strong demand for land persisted. Land is considered one of the best capital preservation options available, which kept the deal flow solid, and the low inventory of available land maintained strong pricing.
How is 2023 shaping up? There was strong momentum going into the year as the motivation and demand from 2022 continued. We have more demand than we have tracts. We remain optimistic about the year's potential. The results may not be the same as in prior years, but plenty of opportunity remains.
COMPASS RANCH & LAND
COMPASSRANCHANDLAND.COM (832) 899-4788
2022 Sales: > $1B
Who: Founded in 2012, we are a technology-enabled residential real estate brokerage. Our end-to-end platform includes an integrated suite of cloud-based software for customer relationship management, marketing, client service, brokerage services, and other critical functionality.
WOW: Listed a 35-acre property perched above the Snake River on a mostly undiscovered plateau in Jackson, Wyoming, for $5.5 million. What was your take on 2022? While buyers who were concerned with interest rate hikes were more likely to give pause, cash buyers and others looking for high-end ranch and legacy properties kept the market moving.
How is 2023 shaping up? The overall number of ranch and land transactions may have normalized, but the market continues to see historic deals happening coast-to-coast.
FAY RANCHES
FAYRANCHES.COM (800) 238-8616
2022 Sales: $500M–$1B
Who: We have been providing brokerage and advisory services for the acquisition and sale of significant land assets since 1992. Our focus and expertise include farms, ranches, timberlands, and recreational properties from coast-to-coast.
WOW: Sold 30,655-acre Foley Butte Ranch in Prineville, Oregon, for $28.5 million. What was your take on 2022? Throughout the US, land has become an essential ingredient to a balanced financial portfolio for investors. The pandemic increased the attractiveness of land due to investors' desire to insulate their families.
How is 2023 shaping up? We see land sustaining its attractiveness at least through 2023 and likely for many years beyond. There will be an inevitable downturn in the residential real estate market. However, due to the lack of supply of land, it has historically sustained down markets better than other real estate products. With little pressure on land markets, we will continue to see a decrease in transactions as investors choose not to sell.
HALL AND HALL
HALLHALL.COM (888) 557-3090
2022 Sales: > $1B
Who: We have a 77-year history of representing investment-quality rural real estate. Our services include traditional brokerage, auctions, appraisals, financing, and ranch management.
WOW: Sold T. Boone Pickens' stunning Mesa Vista Ranch.
What was your take on 2022? The red-hot market of 2021 carried over through the first half of 2022, at which time depleted inventory and higher pricing in some market segments began to slow sales volume. We ended the year at our second-highest level of sales production.
How is 2023 shaping up? Our first-quarter sales were consistent with Q1 2022, led by an above-average number of large sales. We expect continued demand for a limited number of high-quality properties, with slowly increasing inventories and greater price sensitivity surrounding properties that are more common in the marketplace.
HAYDEN OUTDOORS REAL ESTATE
HAYDENOUTDOORS.COM (866) 741-8323
2022 Sales: > $1B
Who: A marketing-minded real estate brokerage founded in 1976 and based in Windsor, Colorado.
WOW: Our team closed the$45 million Cimarron Valley Ranch: 45,000 contiguous acres bisected by 22 miles of the historic Cimarron River in Colorado and Oklahoma. We also listed and sold the Double Nickel on the Niobr- ara, a 34,000-acre Nebraska ranch priced at $42.5 million.
What was your take on 2022? Average sold prices were up by almost 20 percent, and sales trends throughout the year supported that demand.
How is 2023 shaping up? There is a strong market for all-cash buyers looking to invest in real estate instead of the stock market.
ICON GLOBAL
ICON.GLOBAL (214) 855-4000
2022 Sales: $500M–$1B Who: We align and partner with brokers and agencies globally to design and implement strategic, tactical marketing and sales campaigns for high-value ranches and real estate.
WOW: We twice sold the 9,000-acre Mischer Ranch in Franklin, Texas, both times in off-market private sales.
What was your take on 2022? It was robust, with 70 percent of our business off-market.
How is 2023 shaping up? There is a great selection of listings in all price ranges in Texas, nationally, and internationally.
KW LAND WITH KELLER WILLIAMS REALTY
KWLAND.COM (512) 648-2558
2022 Sales: > $1B
Who: The rural land division of Keller Williams Realty, with a nationwide network of land brokers. We specialize in land sales and acquisitions, including agricultural, timber, ranch, recreational, equestrian, and development. WOW: We grew to more than 500 agents nationwide.
What was your take on 2022? It was a strong year nationally, though the majority of our sales were in the Southeast.
How is 2023 shaping up? We added more than 75 agents in the first quarter.
LANDLEADER
LANDLEADER.COM (844) 281-4301
2022 Sales: $500M–$1B
Who: Our members represent rural land, recreational tracts, farms, ranches, timberland, luxury homes, waterfront properties, and large tracts.
What was your take on 2022? We experienced an unprecedented amount of demand for rural and recreational properties. Days on the market were single digits, with some properties snatched up before we even had them uploaded to our website.
How is 2023 shaping up? Still a seller's market. Demand is high, but supply is not. People are holding on to what they have, or properties that are coming available are being snatched up before we get boots on the ground. We see another strong year of rural and ranch properties dominating the market.
LANDVEST
LANDVEST.COM (617) 723-1800
2022 Sales: > $1B
Who: We are the largest broker of institutional forestlands in the United States, specializing in impact forestland and associated environ- mental assets. We offer management, real estate consulting, appraisal, and luxury residential-business units.
WOW: Our forestland marketing group closed approximately $1.4 billion in sales in 2022, representing approximately 40 percent of the market share. We lined up a pipeline of transactions anchored by Project Dionysus involving 163,000 acres of high-quality, managed timberlands distributed in four operating units across Texas, Georgia, and Alabama.
What was your take on 2022? We witnessed growing demand for forestland investments across all US regions, coupled with a limited supply of available investment opportunities. A variety of factors — including inflation, rising interest rates, climate-action initiatives, demand for forest products, and geopolitical uncertainty — all played a role in shaping markets.
How is 2023 shaping up? Considering the inflow of capital into the asset as an alternative hedging strategy, and with few new opportunities on deck, it remains a strong seller's market in all geographies of the country.
MOSSY OAK PROPERTIES
MOSSYOAKPROPERTIES.COM (866) 667-2289
2022 Sales: > $1B
Who: Founded in 1999, we specialize in rural and recreational land sales with a network of land specialists spanning 30 states.
WOW: Our network closed in excess of $1.4 billion in sales last year, averaging a closing every two hours.
What was your take on 2022? The rural land market remained strong despite inflationary and interest rate headwinds. Cash buyers continued to set the pace in markets, and larger transactions were prevalent.
How is 2023 shaping up? Demand for rural real estate remains strong due to market and mindset shifts that took place after the pandemic.
MURRAY WISE ASSOCIATES
MURRAYWISEASSOCIATES.COM (217) 352-6006
2022 Sales: $100M–$250M
Who: We market farmland across the nation and work with a variety of crop types, including strawberries, potatoes, corn, and soybeans. Our clients include institutional investors, family offices, high-net-worth individuals, local investors, and family-farm owners and operators. We also have a long track record of agribusiness marketing campaigns.
WOW: Sold a 1.8-million- square-foot greenhouse in Bourbon County, Kentucky, for $34 million to one of the largest ornamental-flower growers in the nation. The property has been used for the production of annual ornamental plants for large home-improvement retail stores located throughout the Midwest.
What was your take on 2022? Farmland prices continued their run from 2021. Strong commodity prices and lower input costs helped farm incomes and drove land prices to record highs.
How is 2023 shaping up? A good amount of land came to the market near the end of 2022, and the market withstood the increase in supply well, with many record prices. The farmland market has been stable and is not showing any signs of concern over higher interest rates or the overall economy. The biggest factors in the price of farmland will be the balance sheets of the most likely buyers: the farmers.
NATIONAL LAND REALTY
NATIONALLAND.COM (864) 331-1600
2022 Sales: > $1B
Who: A full-service real estate brokerage specializing in farm, ranch, hunting, wildlife, timber, country, waterfront, and recreational land across the country. We also offer a national network of support from local land professionals.
WOW: In 2022 we completed 1,984 transactions, sold 246,689 acres of land, and had $1.46 billion in sales volume.
What was your take on 2022? A transition from a rapidly appreciating asset class to a market plateau and more careful buyers.
How is 2023 shaping up? Each news cycle that mentions interest rates or economic risk causes a few weeks of a skeptical market. As a result, inventories are remaining low as potential sellers sit on the sidelines.
PEOPLES COMPANY
PEOPLESCOMPANY.COM (515) 222-1347
2022 Sales: $500M–$1B
Who: Specializing in land brokerage, asset management, oil and gas management, appraisal, and crop insurance.
WOW: We conducted a 10-tract, multiparcel auction in Nebraska that drew more than 40 bidders in attendance. The nearly 1,000 acres of irrigated farmland sold for more than $14.6 million.
What was your take on 2022? Our second consecutive year of record sales volume.
How is 2023 shaping up? We anticipate sales volume to decline in 2023 but prices to remain stable. The higher cost of capital and uncertainty around the economy is putting more friction on transactions.
POTLATCHDELTIC REAL ESTATE
POTLATCHDELTICLANDSALES.COM (509) 835-1500
2022 Sales: $50M–$100M
Who: A leading real estate investment trust (REIT) that owns nearly 2.2 million acres of timberlands in Alabama, Arkansas, Georgia, Idaho, Louisiana, Mississippi, and South Carolina. We operate six sawmills, an industrial-grade plywood mill, a residential and commercial real estate development business, and a rural real estate sales program.
WOW: We merged with Catch-Mark, adding 350,000 acres in Alabama, Georgia, and South Carolina. These lands are located in great timber and real estate markets, and we plan to stratify this new ownership for real estate opportunities in 2023. What was your take on 2022? Both acres sold and prices per acre increased from 2021. Our Chenal Valley master-planned community in Little Rock enjoyed closings for both residential lots and commercial acreage, which was second-highest of all time. Demand remained high for both recreation and conservation products.
How is 2023 shaping up? It could be an interesting year, particularly due to buyer and seller sentiment.
REALTREE UNITED COUNTRY HUNTING PROPERTIES
REALTREEUC.COM (800) 999-1020
2022 Sales: > $1B
Who: Our team provides knowledge and consultation for buyers and sellers of hunting and recreational properties nationwide.
WOW: Sold the 11,375-acre Fisher Ranch, one of the largest ranches in Southeast Oklahoma, which was listed at $19.9 million.
What was your take on 2022? Hunting properties showed stability, although increasing pressure on discretionary recreational properties is being felt from a slowing economy, premium prices, and rapid increases in interest rates.
How is 2023 shaping up? As the market normalizes, we anticipate continued strong sales throughout the year.
SCHRADER REAL ESTATE AND AUCTION COMPANY
SCHRADERAUCTION.COM (260) 229-7089
2022 Sales: < $50M
Who: We specialize in land auctions and broker large and complex land deals in different regions of the country. We have offices in Indiana, Oklahoma, Ohio, Michigan, Colorado, Kentucky, and Wisconsin, along with joint ventures in Virginia and Florida. We are licensed to coordinate business in 28 states and can secure licensing in almost any state.
WOW: Represented the sale of a 1,694-acre farm located in a river-bottom portion of the Midwest. The seller offered the farm to the current tenant for $8 million, but the tenant declined. We were then brought in to advertise the farm and ultimately sold it for more than $13.5 million.
What was your take on 2022? 1031 buyers played a role in many of the record-breaking prices we saw.
How is 2023 shaping up? Even with a rise in interest rates, land values remain strong. Moving forward, land values are likely to be tied closely to commodity prices. However, investors have helped pro- vide a base in auctions that will likely prevent the market from dipping too low, even if commodities come down.
SPORTS AFIELD TROPHY PROPERTIES
SPORTSAFIELDTROPHYPROPERTIES.COM (714) 622-2774
2022 Sales: $500M–$1B
Who: We specialize in countryside properties with a focus on ranching, recreational, agricultural, hunting, horse, fishing, woods, and forest properties.
WOW: We set a record number for sales in 2022.
What was your take on 2022? A profitable year overall. Although we didn't see the hyperactive seller's market of 2021, we still experienced a large demand for rural and recreational properties. The desire to escape urban life and embrace a slower pace of living fueled demand.
How is 2023 shaping up? Generally positive with a few caveats. The supply of available land is expected to continue to be an issue, which will likely push prices higher. There is continued strong demand for farm, ranch, and retreat properties, despite higher interest rates.
UNITED COUNTRY REAL ESTATE
UNITEDCOUNTRY.COM (800) 999-1020
2022 Sales: > $1B
Who: A nearly 100-year-old real estate company representing lifestyle, ranch, farm, recreational, country, rural, and small-city properties. We support a network of more than 500 offices and 4,000 professionals and auctioneers across the US, Mexico, Costa Rica, and Panama.
WOW: We outpaced the market by 20 percent in 2022, expanded into Hawaii, Alaska, and Canada, and opened nearly 60 new offices.
What was your take on 2022? We experienced continued growth and expansion from our previous record year. Prices continued to increase due to lack of inventory and pent-up consumer demand, in spite of interest rate increases. We still saw multiple offers, but fewer than in prior years.
How is 2023 shaping up? We continue to experience a strong market based on historically low days on market. Listings-to-sales ratios are holding steady with the strong results experienced from 2019 through 2022. Listing inventory remains a challenge.
UC RANCH PROPERTIES
UCRANCHPROPERTIES.COM 800-999-1020
2022 Sales: > $1B
Who: The luxury ranch division of United Country Real Estate provides an exclusive selection of premier ranch properties across the nation.
WOW: Completed the sale of the famed Four Sixes Ranch in Texas. Listed at $341 million, this 266,000-acre ranch has 150 years of history, pedigreed Quarter Horses, and a famous cattle brand.
What was your take on 2022? Ranch sales remained strong and showed growth throughout the year. There were more buyers than sellers, creating low inventory and resulting in continued strong demand.
How is 2023 shaping up? We remain optimistic about ranch sales with continued strong demand during the first quarter of the year.
WHITETAIL PROPERTIES REAL ESTATE
WHITETAILPROPERTIES.COM (217) 285-9000
2022 Sales: > $1B
Who: We focus on recreational hunting land, ranch, farm, timber, and country homes. We also reach more than 24 million households with Whitetail Properties TV on the Sportsman Channel.
WOW: On average, we sold 13 properties per day company-wide in 2022, including more than 350 properties listed at $1 million or more.
What was your take on 2022? Land prices trended up from 2021 due to relatively low-interest rates, volatility in the stock market, and a strong desire for safe, long-term investments.
How is 2023 shaping up? Listings continue to be in steady demand, and values are trending up. The buyer frequency remained strong in the early part of the year, and we think this will continue as long as interest rates do not significantly increase.