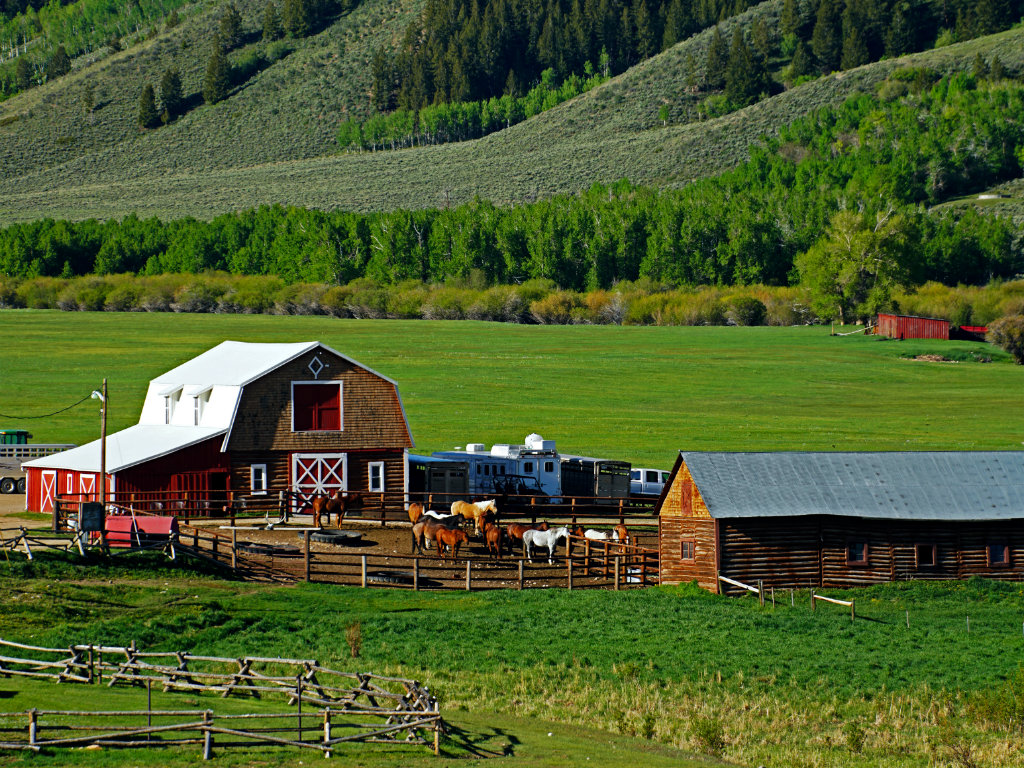 Colorado's historic DIAMOND TAIL RANCH embodies the best of the Old West with proven profitability.
Quite often the typical working livestock ranch is not the type of place where you want to take family or friends for a vacation. Then again, the picturesque Diamond Tail Ranch in Northern Colorado is not your typical livestock operation. Sure, more than a thousand head of bison and cattle graze on the property, and they require all sorts of equipment and trucks and hands. But this activity is hardly noticeable when compared to the stunning scenery on and around the ranch.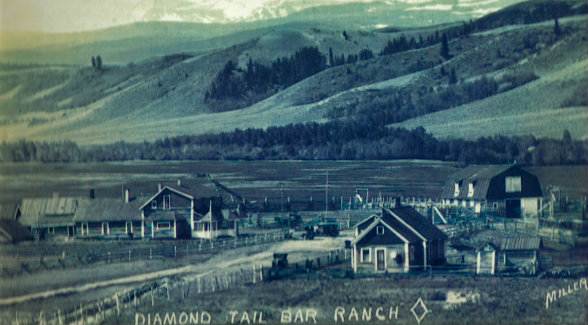 The Diamond Tail — which consists of 17,656 deeded acres and another 20,000-plus acres of federal and state leases — spans the entire width of a secluded valley with the Rawah Wilderness to one side, the Roosevelt National Forest on the other, and snow-capped peaks all around. Moose, elk, deer, antelope, bobcat, cougar, and the occasional black bear frequent the ranch's lush meadows.
Some 27 miles of live water, including more than 11 miles of the Laramie River, run through the heart of it all, providing copious amounts of water for irrigation as well as exceptional trout fishing. "There are fewer and fewer places like it these days. Everybody I take there is astounded," says David R. Duncan, whose father, Ray Duncan, spent decades assembling the ranch.
"I've been fly fishing and elk hunting on the ranch since I was a kid. I'm still a kid whenever I'm there," Duncan says.
Because of an array of other time-consuming business interests, including the renowned Silver Oak Cellars in Napa Valley, the Duncan family recently listed Diamond Tail Ranch with Hall and Hall. According to Hall and Hall partner Brian Smith, Diamond Tail is a rare property, one that pays its own way as a money-making agricultural venture while also providing a peaceful getaway for its owners.
"Diamond Tail generates enough income from agriculture that it supports the entire ranch, including the recreational component that the owners and their guests get to enjoy. You have all this beauty and recreation paid for year after year because of the ag operation," Smith says.
Located in Colorado's Larimer County not far from Rocky Mountain National Park, the region was home to the Arapaho and Cheyenne. Old tepee rings can be found on the ranch. Soon after Colorado joined the Union, pioneering homesteaders began to arrive. Several historic structures still stand on the ranch, including old barns, low-ceilinged cabins, and a hilltop chapel.
Ray Duncan first set eyes on the Laramie River Valley in the mid-1970s. Although he was in his early forties, the Illinois native had accomplished more than most dare to dream of in a single lifetime: earning a degree from Notre Dame, serving his country in the Korean War, attaining a captain's rank in the Marine Corps, cutting his teeth as an independent oil and gas operator, and founding Purgatory, the renowned ski resort outside Durango in Southwest Colorado.
In 1967, this self-made overachiever relocated his family to Denver to open an exploration office. If that weren't enough, he opened a second office in Calgary. He also began investing in California vineyards, a venture that would lead to the creation of Silver Oak Cellars in 1972.
Duncan eyed the market for a few years before purchasing the first piece of Diamond Tail in 1979. He bought and sold almost a dozen tracts until the ranch reached its current size and configuration. Along the way, he structured ranch operations to generate revenues via livestock sales and grazing leases, an operating model that the ranch still follows. Currently, the Duncans run 750 bison and 300 Corriente cattle. During the summer months, an additional 450 Angus are brought on for short-term grazing.
"Diamond Tail is a well-oiled machine. The family has the right number of livestock on the ranch and the right number of people looking after them. Thanks to its profitable agricultural operation, it doesn't need to have a big commercial hunting or fishing component or guest lodging. All the recreation is reserved for family, friends, and guests. The business operation has no negative impact on the owners' personal enjoyment of the property,"
Smith says.
And there certainly is plenty to enjoy, beginning with the wildlife. The diverse topography and vegetation combined with the abundant supply of water entices animals from the surrounding hills to venture into the valley and feed in the meadows.
"You can't go out in the evening without running into at least three different game species, if not five or six," Duncan says. "If there's an animal that lives in the American West, it's probably there on the ranch."
Streams and creeks flow out of the surrounding mountains from all sides and empty into the Laramie River as it meanders through the property, creating more than 27 miles of live water. The ranch owns 307.6 CFS of senior water rights and irrigates approximately 3,000 acres.
The abundance of water provides ample fishing opportunities. In fact, the ranch still honors members of a fishing club that has been active on the ranch since the early 1900s. "There are families who have been fishing on Diamond Tail for three or four generations. My father decided that legacy was something that shouldn't be taken away," Duncan says.
And then there are those panoramic views, which are aided by the absence of barbed wire on the ranch. Instead, Diamond Tail uses high tensile electric wire fences, which blend into the landscape when viewed from a distance.
"That may sound like a small thing. But when you're standing there looking across the plain towards the Rawah Wilderness, the valley looks just like it did centuries ago. That's a special thing." Duncan says. "I grew up in Colorado and spent my whole life in the American West. I've been on a lot of ranches. And that view still stands
out to me."
Duncan says it was important to his father to keep the property's appearance as natural looking as possible, and the family has continued that tradition. As a result, there is no 20,000-square-foot plantation house that dominates the scenery or any artificial fishing banks along the river.
"We still don't have cell service on the ranch, and I'm proud of that fact," Duncan says. "The Western nature of the ranch always appealed to my dad. And it does to me and my brothers. We still gather on horseback and ride out and check the fences. We have been stewards of the land in such a way to keep the ranch very Western and very real, and that's by design."
Smith believes the authentic nature of Diamond Tail will appeal to potential buyers. The property went on the market for $44.9 million in July, and Smith says there was "already a lot of interest in it" within the first few months.
"It's just such an attractive property," Smith says. "The natural resources on this ranch are amazing in terms of the setting and the scenery, with all the water on it and the mountains that are around it. I get to see a lot of pretty amazing properties, but this one really blows me away. It ranks very highly against anything I've ever seen."
Duncan agrees, which is why there is definitely a bit of melancholy in his voice when he discusses selling Diamond Tail. He recently went bow hunting for elk with an old high school friend and wistfully realized that it might be the final such trip he ever gets to make.
"As a retreat to go to and get away from everything, there's just no place better," he says. "Every time I'm there, I think about Clint Eastwood and John Wayne. It's truly the Old West."