The American Landowner: Carole King – A Natural Woman
The American Landowner: Carole King – A Natural Woman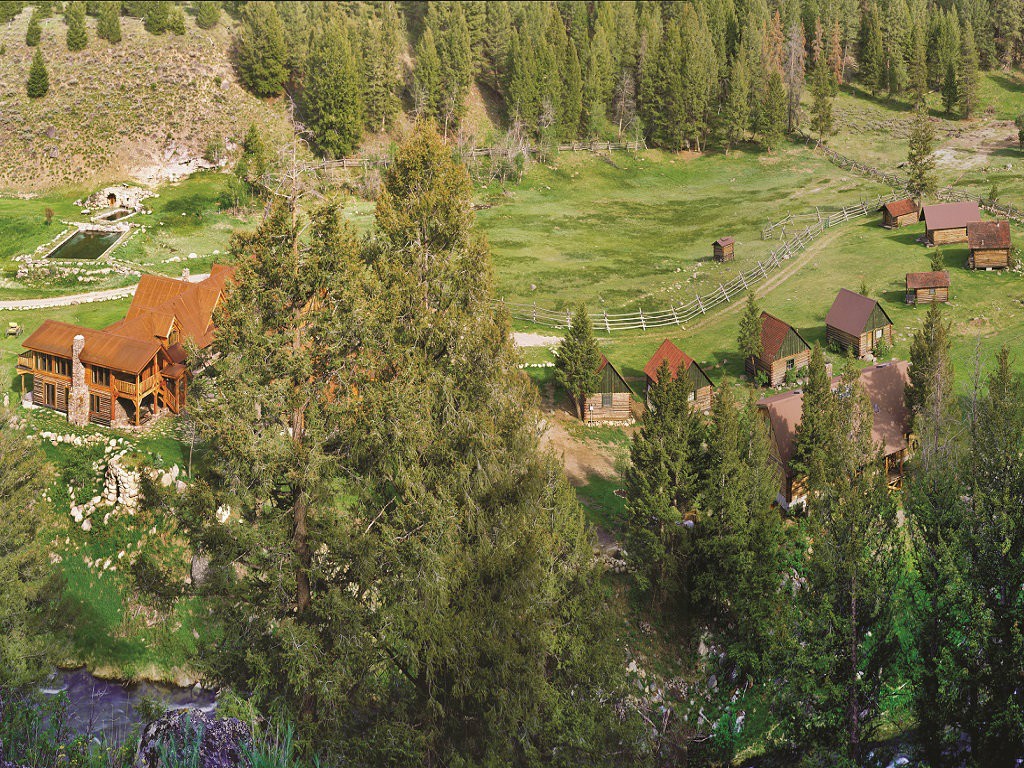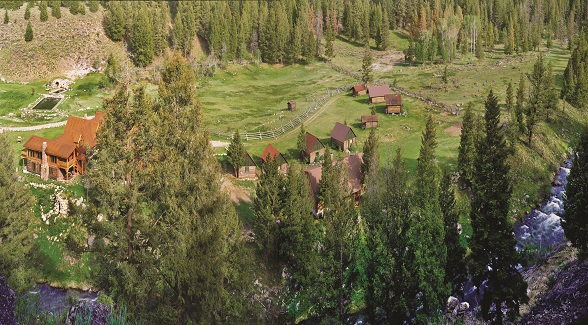 "If I can only learn the lesson of the seasons, of a balance re-arranging …
And then the morning sun comes shining through my window, and it's good to be alive." – Carole King's "Morning Sun"
By Dennis Higman | Photography by Mary Nichols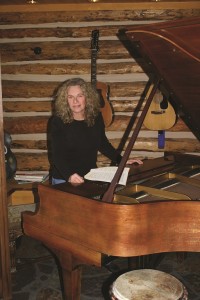 Carole King has always had that magic touch. When she wrote a song, it went to the top of the charts, and when she wrote her memoir, A Natural Woman (Grand Central Publishing), titled after one of her most famous songs, it was prominently featured on Oprah's Book Club where it became and remains a bestseller.
Even in her choice of a place to live, she seems to have that unerring good sense to be where she needs to be at exactly the right time in her life. And for many years, the spectacular Robinson Bar Ranch in central Idaho was that place.
"All I want is a quiet place to live where I can enjoy the fruits of my labor. In my mind I can see it crystal clear, sharing my dreams with the people around me."
So goes "A Quiet Place to Live," one of the many, many hit songs King has written and sung over the years.
Except for the sound of wind in the trees and rushing mountain water, her historic Robinson Bar Ranch is most certainly a quiet place to live. And it's about as far away as you can get from New York's Central Park where its famous owner once gave a free concert in front of 100,000 cheering fans.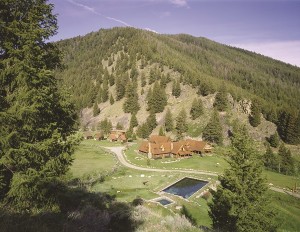 Located in the heart of the stunning Sawtooth Valley, which contains 40 mountain peaks 10,000 feet or higher, more than 300 mountain lakes, the headwaters of the Salmon River, and an abundance of wildlife, ranging from mountain goats to black bear and elk, Robinson Bar, King's home for more than 30 years, is a world away from the busy, hectic, pressure-filled life she's led since writing her first hit song with Gerry Goffin, "Will You Love Me Tomorrow?" in 1961 when she was a mere 18-year-old.
Despite its solitary privacy and end-of-the-road location, the ranch, which was featured in Architectural Digest, is accessible by car 12 months of the year. It is, in fact, just a little over an hour from the airport and Sun Valley resort with all its amenities. And like the resort, Robinson Bar has, on average, 300 sunny days a year.
The first inhabitants of Robinson Bar, with its extensive geothermal springs, were Shoshone-Bannock Indians. In 1890 it became a stage stop, and in 1920 Chase Clark, later Governor of Idaho and Idaho Supreme Court Justice, bought the property and operated it as a guest ranch. It remained in the Clark family for many years. Gov. Clark's daughter, Bethine, was married to the late U.S. Senator Frank Church, who was responsible for much of the legislation that has protected Idaho's wilderness, including the Sawtooth National Recreation Area (SNRA) that surrounds the ranch on all sides.
When King, singer, songwriter, pianist, and longtime Idaho resident, bought Robinson Bar in 1981, she was looking for a place to step back, regain her perspective and balance in the middle of an ongoing career that includes 25 solo albums, four Grammy Awards, a Grammy Lifetime Achievement Award, a Star on the Hollywood Walk of Fame, and induction into the Rock and Roll Hall of Fame, Hit Parade Hall of Fame, and Songwriters Hall of fame for such hits as "(You Make Me Feel Like) A Natural Woman" and "It's Too Late."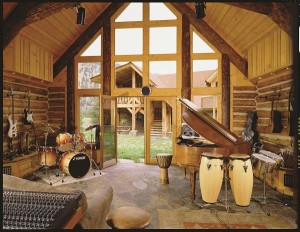 "For me, it's been a sanctuary," says the artist critics dubbed the Queen of Rock. "A place to appreciate the natural rhythms of life we tend to forget in the modern world. I enjoy all the seasons, including winter, but spring is my favorite, seeing new green shoots poking through melting snow and watching the first birds arrive. Everything is so fresh and new. I love to get up early in the morning, go for a hike, or take a swim in the pool. It's a great way to start the day."
The pool complex – one outdoor swimming pool and an outdoor soaking pool, all heated by hot springs – is only one of the extensive upgrades King has made, including modernizing the 7,337-square-foot main lodge, caretaker's home, owner's home, eight historic freestanding log guest cabins, horse barn and a variety of other ranch buildings.
Of course, Robinson Bar also has a fully equipped professional recording studio because King is still actively engaged in the business that made her famous. In 2010, she went on the highly successful Troubadour Reunion Tour with her longtime friend James Taylor, the second-highest musical attraction of the year in North America. King and Taylor also played to electrified audiences at the prestigious annual Tanglewood Concert. In 2011 she released A Holiday Carole, an album featuring songs written by her daughter Louise Goffin.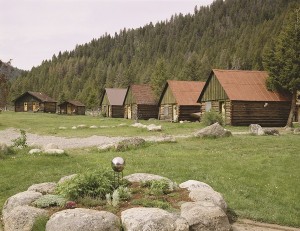 More recently King and Taylor were featured performers at the Boston Strong concert benefiting Marathon bombing survivors and victims' families. In 2013, she also became the first woman recipient of the Library of Congress Gershwin Prize for Popular Song, presented to her by President Obama in a White House ceremony. Other recipients of this prestigious award include Paul Simon, Stevie Wonder, Paul McCartney, and the team of Hal David and Burt Bacharach. And finally, Beautiful: The Carole King Opera, is Broadway bound this year.
King has four grown children and five grandchildren. "I've been so fortunate to be the mother of such wonderful, happy, healthy children. I can't imagine any greater accomplishment or blessing a person could wish for."
Her years on the ranch have also caused her to become an active, vocal supporter of the Northern Rockies Ecosystem Protection Act, a federal wilderness bill covering 24 million acres in Montana, Idaho, Wyoming, Oregon, and Washington. She has testified before Congress four times in support of the legislation. "It protects land, water, and wildlife belonging to all Americans. If I can influence one person to make a greater effort to protect our planet, I'll consider my efforts a success," King says.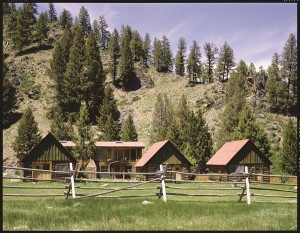 King is also passionate about protecting wild horses that roam public land in the West. One such herd is not far from her ranch. "These noble animals are part of our American heritage and for the life of me I can't understand how we can spend millions of dollars rounding them up when they're not hurting anybody. They ought to be allowed to run wild and free," King says.
Why has she put Robinson Bar on the market after all these years? "Well, time passes a lot faster than most of us want to admit. I turned 71 last year, and as I get older, I won't be able to do all the things I've enjoyed doing there for so many years. I wanted to give this special place and its next owner a chance to find each other. I just hope whoever buys it will appreciate it as much as I have – and that it will make a profound difference in their life, as it most certainly has in mine."
For further information about Robinson Bar Ranch, which is listed at $9.9 million, contact Stoney Burke at Hall and Hall at (208) 622-4133.