Former Head Coach Pat Dye Donates Crooked Oaks Farm to Auburn University
Photography by Auburn Athletics
Former Head Coach Pat Dye Donates Crooked Oaks Farm to Auburn University
Photography By: Auburn Athletics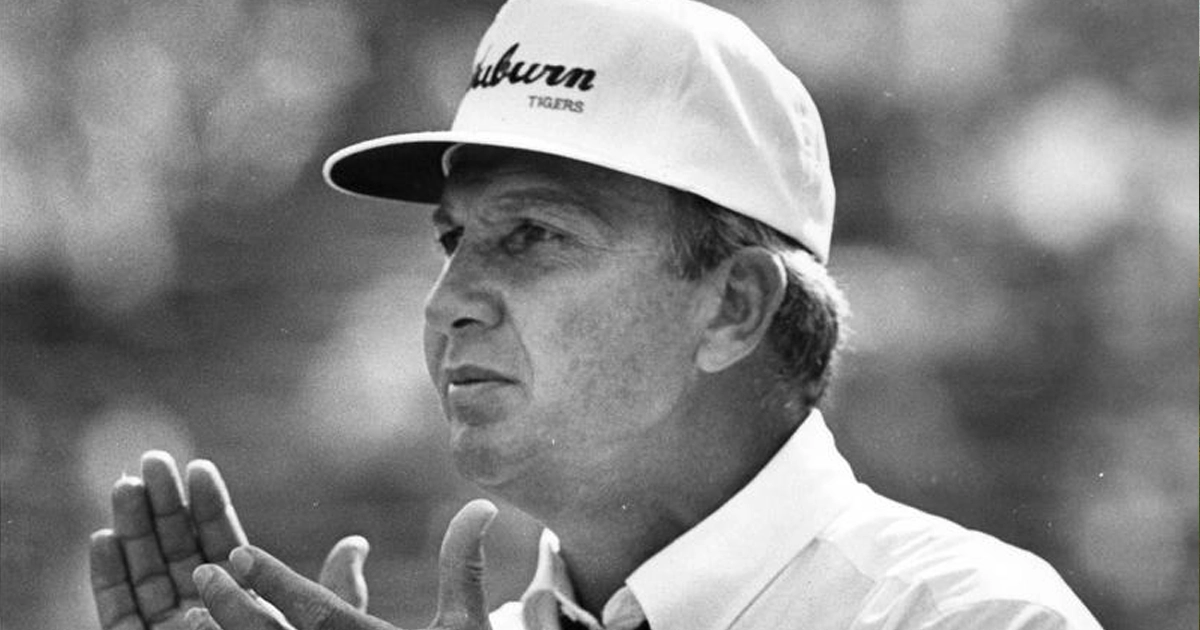 For nearly 20 years, Pat Dye cultivated football teams. His most notable success occurred as the head coach at Auburn University. Dye led the Tigers to four Southeastern Conference championships in the 1980s. This legacy resulted in Dye's induction into the College Football Hall of Fame in 2005.
Following his departure from coaching after the 1992 season, Dye turned his attention to cultivating a piece of property he purchased 12 miles west of Auburn in Notasulga, Alabama. He dubbed it Crooked Oaks Farm and spent the ensuing decades transforming the forest-filled hunting land into his own small wonderland.
Pat Dye's Paradise
Working with a local contractor and landscapers, Dye constructed walking trails and a gentle waterfall. He planted hundreds of new trees, particularly Japanese maples, and established an on-site nursery. Dye turned a trailer into a three-bedroom home, then later added a guest cabin, six-bedroom lodge, and two barns, all located near a 5.5-acre bass-filled pond. He built a pavilion and began offering the property for weddings and other events. Dye enjoyed his creation so much that he lived there with his longtime partner, Nancy McDonald, until his death in 2020.
"To me, living on this place is like living in paradise," Dye wrote of Crooked Oaks in his 2014 autobiography, After the Arena. "The good Lord created it, and then I just put a few touches on it so I can enjoy it and appreciate it. Because no one can paint a picture like Mother Nature."
A Gift to Auburn University
Now this land that Dye so loved is providing a new legacy for him with Auburn. In July, the Dye/McDonald Trust donated 415 acres of Crooked Oaks to the Auburn University Real Estate Foundation (AUREF) and the school's College of Forestry, Wildlife and Environment (CFWE). The property, which was valued at more than $3 million, will continue to be utilized as an event venue, while also providing experiential learning opportunities for CFWE students.
"Coach Dye loved sharing that property with people," AUREF Executive Director and Vice President Angie Stephens says. "Part of his passion was to show people how enjoyable the outdoors can be, and he did that with Crooked Oaks.
"We're looking at each area of the farm and seeing what is the best use for that particularly piece. We're looking at the pasture land, the nursery, the hunting aspects. We want to build upon the legacy of Coach Dye, while also continuing the academic mission of Auburn University."
The gift is an example of how an investment in land can eventually lead to a donation that benefits an entity of the landowner's choosing. Stephens says AUREF was created specifically to accept such gifts of property for Auburn University.
Donating Land
"Real estate is an incredible vehicle to make an investment to a charity that's important to you. It's a way that somebody can do something really significant without necessarily being super wealthy," Stephens says. "With the gifts we receive, we immediately market some for sale. But others we hold and develop and try to determine its highest and best use. We're holding Crooked Oaks because we saw great opportunity with it."
CFWE Dean Janaki Alavalapati says Crooked Oaks is poised to become an expansive outdoor classroom for CFWE students. In particular, he says having access to the property will provide tremendous benefits for students majoring in Auburn's Wildlife Enterprise Management program, which encompasses both habitat oversight as well as business and hospitality opportunities.
"The program is essentially about how to set up enterprises related to hunting clubs, fishing clubs, and lodges," Alavalapati says. "This property can serve as a hub for that major, since a lot of those types of events are already taking place there. It also offers the ability for some long-term research projects because there are so many different types of hardwoods on the property.
"Coach Dye was a great nature lover, and he understood how being outdoors can transform the lives of people. His vision very much aligned with the college and what we do with our students. So this donation is going to be a game changer for us in many different ways to take our experiential education activities to the next level."
Fundraising Vehicle
Acquiring Crooked Oaks also provides Auburn and the CFWE with a new way to raise funds. Simply having Dye's name attached to the property captures the attention of some potential donors, such as the recent $300,000 gift from an Auburn supporter for improvements to the property's roads and to the event parking area.
In addition, Crooked Oaks already generates revenue as an event facility. After the donation, Alabama real estate broker Russell Stephens was brought in as property director to examine other potential revenues such as lodging, camping, equestrian, and utilizing the nursery.
"Part of my mandate is to figure out how to gear the property toward the spirit of the gift to honor the donors, and then make it stand on its own and create revenue streams that will sustain it," Stephens says. "So we're looking at ways to market the property and create activity on it.
"From a university perspective, it's a great platform for donor relations. It's an opportunity for partnerships where people can see something being created on this land that benefits both Auburn and the general public."
A Lasting Legacy
It is a poignant task for Stephens, who had known Dye since the early 1990s. Stephens saw firsthand just how much both Auburn and Crooked Oaks Farm meant to Dye, and he says he feels the importance of ensuring that the property is handled correctly moving forward.
"It's been emotional in ways I didn't anticipate," Stephens says. "I had a connection with Coach Dye, and you can see the essence of what the core of him was when you're out here. It's reflected in his creativeness and the beauty of the things he wanted around him.
"That, coupled with his heart for sharing this place. Coach Dye loved a crowd. He loved people. So he built something to bring people to him. He wanted people to be outdoors. He wanted students to have interactive experiences and education in the outdoors. Crooked Oaks Farm provides all that. So this really is a far-reaching gift of land for both Auburn and the state of Alabama."

---
Originally published in The Land Report Fall 2023.