Behold An Enchanted Forest
Behold An Enchanted Forest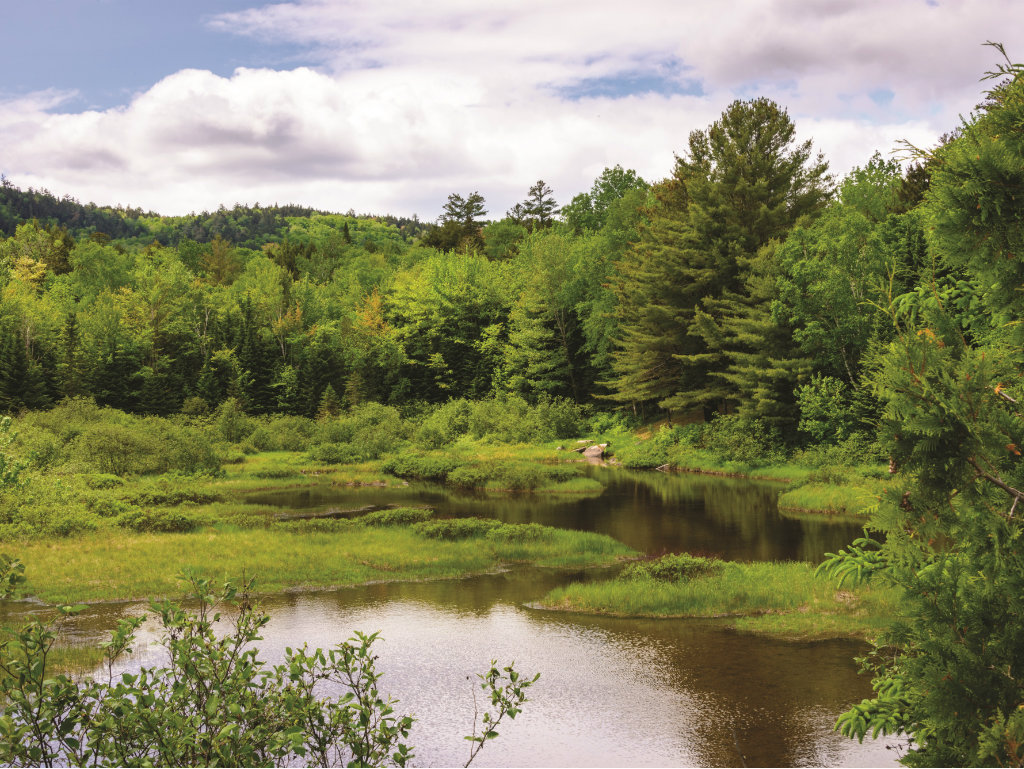 A Maine entrepreneur's extraordinary generosity spurs the creation of a North Woods gem.
Burt's Bees cofounder Roxanne Quimby just put a big X on her bucket list. She gave away 87,654 acres — to the Department of the Interior. The transaction, which was recorded August 23 at the Penobscot County Registry of Deeds, was followed by a stirring announcement from the White House the very next day:
"Today, in honor of the 100th anniversary of the National Park Service, President Obama designated the Katahdin Woods and Waters National Monument encompassing awe-inspiring mountains, forests, and waters of north-central Maine." The Quimby family's remarkable gift is the latest in a longstanding tradition of families such as the Rockefellers, the Mellons, and many others. It evinces a wonderfully American strain of noblesse oblige, a point the White House highlighted:
"[T]his designation will build on the robust tradition of growing the park system through private philanthropy, and will reinforce the need to continue protecting our great outdoors as we enter the second century of the National Park Service."
Quimby's donation and its subsequent designation as a national monument were not universally praised. Among the dissenters was Maine's rarely soft-spoken governor, Paul LePage. According to the Portland Press Herald, Governor LePage denounced the donation in a statement released by his press office that read in part, "That's one way to get out of paying taxes to the State of Maine."
Unfortunately, Governor LePage failed to take into consideration a somewhat critical point: Would it make sense to divest oneself of a $60 million asset in order to get out of paying $150,000 in property taxes? Probably not.
More to the point, since its founding in 2007, The Land Report has followed Quimby's quest to create a parkland. This was no tax dodge.
"My first and foremost priority is to restore the ecosystem to create a fully healthy habitat for the flora and fauna," she wrote in an email to The Land Report.
Unfortunately, her thoughtful approach didn't jibe with everyone's perception of historical land uses in rural Maine. Quimby found herself at the center of a public policy tug of war. Increased mechanization and industry consolidation have debilitated the once-vibrant North Woods economy. The last thing many Mainers wanted was an eco-friendly solution. Pushback was pronounced; so too was the proliferation of "Ban Roxanne" bumper stickers.
Given the importance of Quimby's voice in this story, the oft-told tale of her entrepreneurial success bears repeating.
In 1975, the 24-year-old Massachusetts native and her boyfriend arrived in the North Woods in a VW van. They had driven cross-country from California to homestead 30 acres on the edge of the largest expanse of wilderness east of the Mississippi.
Nine years later, Quimby, now a single mother raising twins in a cabin, noticed that a local beekeeper named Burt Shavitz had oodles of leftover beeswax. Shavitz sold honey out of his pickup truck; he marked his hives "Burt's Bees." Soon, a partnership was born. When Shavitz showed Quimby an old book filled with beeswax recipes, a product line was born.
By 1991, their mom-and-pop operation had incorporated. In 1994, Burt's Bees relocated to North Carolina. Quimby bought out Shavitz in 1999; AEA Investors paid $173 million for an 80 percent interest in 2004. Three years later, Clorox bought the best-selling brand of natural personal care products for $925 million.
By the time Clorox acquired Burt's Bees, the allure of the North Woods that had drawn Quimby to Maine manifested itself in land fever. She invested a portion of her early profits in 8,000 acres of Maine woods. As her fortune increased, additional acreage was acquired, much of it in the viewshed of the state's highest summit, Mount Katahdin. With her holdings at 119,000 acres, she ranked No. 86 on the 2012 Land Report 100.[Editor's Note: 119,000 acres would not qualify for inclusion in the 2016 Land Report 100. The floor is now 139,000 acres.] Quimby and her son, Lucas St. Clair, originally envisioned donating the family's landholdings to form two parks: a national park with more restrictive uses, and a more user-friendly state park where activities such as snowmobiling and logging would be allowed. In the end, expediency won out. Creating a new national park can be a tortuous undertaking, especially when a state's Congressional delegation does not unanimously support it. By contrast, the path to designating a national monument requires but one signature.
With the stroke of a pen (and the authority granted by the Antiquities Act of 1906), President Obama created the Katahdin Woods and Waters National Monument.
Passed during Theodore Roosevelt's second term, the Act has been utilized by 16 presidents to protect some of our country's most iconic landmarks, including the Devil's Tower (TR, 1906), Zion National Park (Taft, 1909), Acadia National Park (Wilson, 1916), Carlsbad Cave (Coolidge, 1923), the Grand Canyon (Hoover, 1932), and the Grand Tetons (FDR, 1943).
Lest Governor LePage fret about a federal land grab, it should be noted that the transfer of 87,654 acres by Quimby's nonprofit, Elliotsville Plantation Inc., to the Department of the Interior involved less than one-half of one percent of the state's land mass. With the inclusion of the new parklands, the federal government currently owns less than two percent of the Pine Tree State. By comparison, neighboring New Hampshire is 13.8 percent federally owned. And western states such as Utah and Nevada? Almost 65 percent and 85 percent, respectively.