2022 Historic Deal of the Year: Bringing Back the XIT
2022 Historic Deal of the Year: Bringing Back the XIT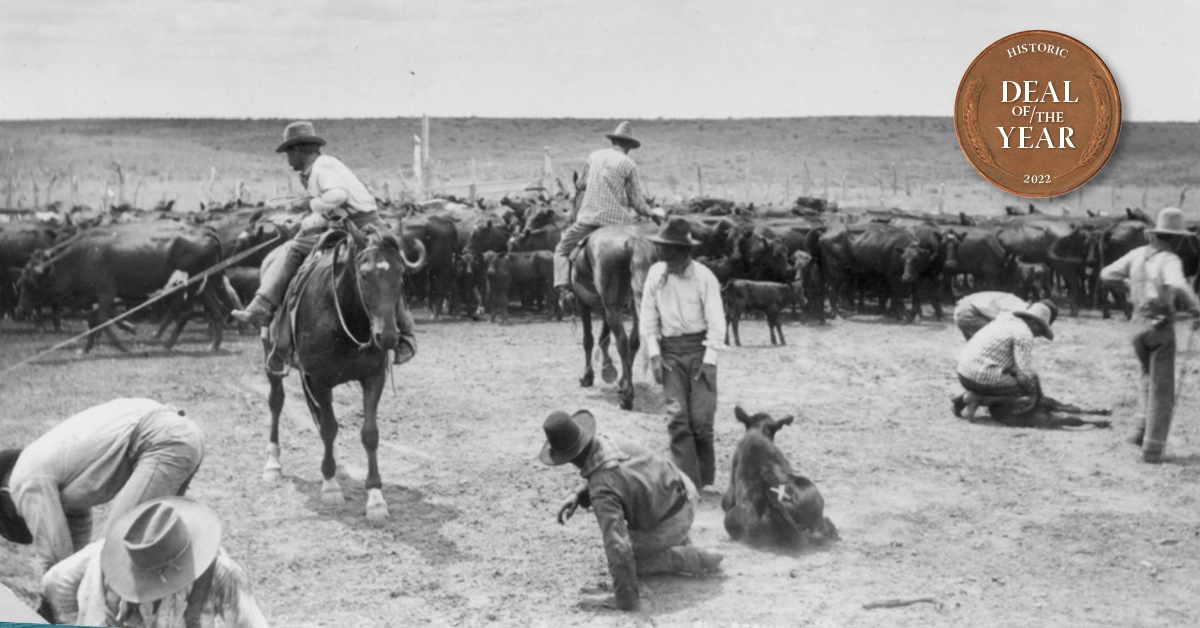 After a 50-year hiatus, the largest cattle operation in American history has returned to its historic Texas roots.
The sale of the 11,520-acre Burson Rita Blanca Creek Ranch in the Texas Panhandle, which was brokered by Monte Lyons at Hall and Hall, included a portion of the historic XIT Ranch. Better yet, the buyer was Drew Knowles, the great-great-great grandson of John V. Farwell, one of the members of the Capitol Syndicate that founded the great ranch.
In 1879, the Texas Legislature authorized a great trade: 3,050,000 acres of state-owned ranchland in 10 counties in the northwest corner of the Texas Panhandle that would become the XIT in return for construction of a new state capitol.
Two years later, the existing capitol burned to the ground, and construction of a suitable replacement became a top priority. Ultimately, a Chicago firm that included Amos Babcock, Abner Taylor, Charles B. Farwell, and Knowles's great-great-great-grandfather, John V. Farwell, won the contract.
XIT Ranch History
The XIT operated from 1885 to 1912. At its height, 150 hands relied on 600 horses to run 150,000 cattle. After the XIT shut down, it took more than 50 years for the Farwells' Capitol Reservation Lands to sell off the remnants of the great ranch.
Those tracts included the XIT's Mare Pasture, which became Burson Rita Blanca Creek Ranch, which has been owned and operated by four generations of Bursons. Rita Blanca Creek runs through the middle of the ranch, and a 16-acre lake provides additional groundwater.
Knowles put the XIT name on his horse ranch in La Veta, Colorado. Last year, he and his wife, Abby, acquired the Mare Pasture. They have since relocated to Texas. Knowles plans to continue his family's legacy with the land by running approximately 1,000 yearlings on the ranch, plus 80 horses.
"The fact that the Rita Blanca was once part of my family's ranchlands is very special to us," Knowles says.
"Ultimately, our job is to take care of the land so it can take care of us and future generations. Our goal is to carry the legacy of the XIT forward by honoring the hard work and sacrifices of those who
came before us."