The Duckworth Story
By Corinne Gaffner Garcia
Photography by Kyle Niego
The Duckworth Story
By: Corinne Gaffner Garcia
Photography By: Kyle Niego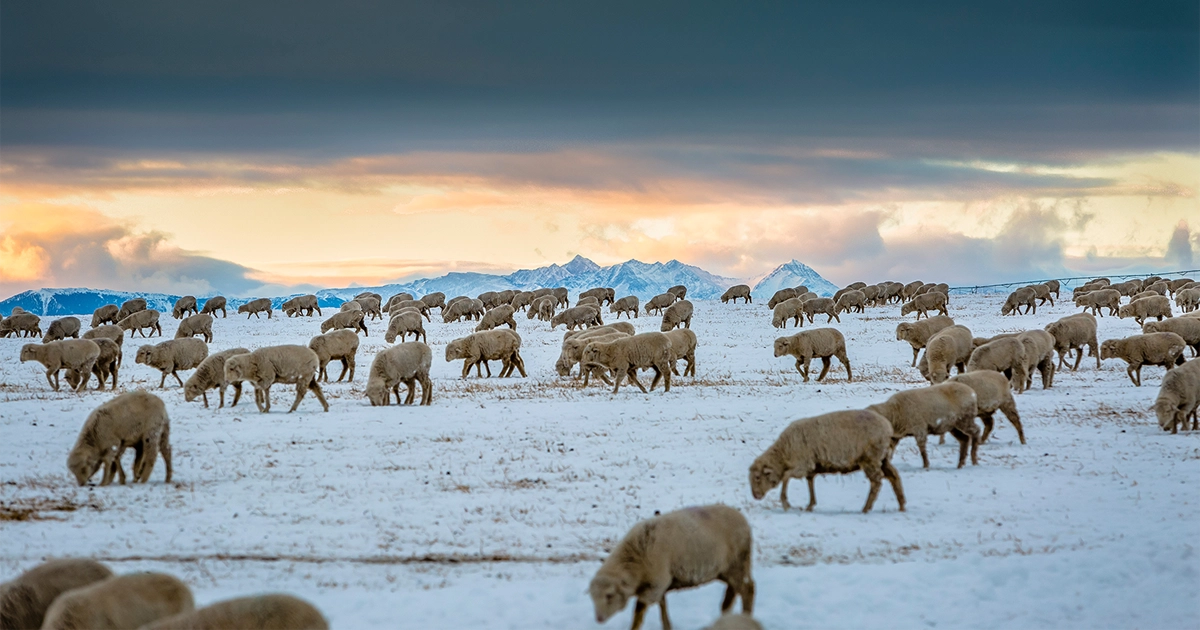 With Duckworth, their pioneering brand of high-quality merino wool outdoor clothing,
Montana's Helle family
has established a robust
business model based entirely on a sustainable
domestic supply chain.
History and happenstance — these are two threads that weave together to create the Duckworth brand. Its storied heritage dates back to the late 1800s when John Helle's ­maternal fore­fathers left Europe for the New World. ­Fortunately, ­international travel was as much an iffy ­proposition back then as it is today.
Pioneering Montanans
A fortunate twist of fate in the form of a missed ­connection — passage on the Titanic, no less — saved the day. Like many ­pioneering ­Montanans, Helle's great-greats ­followed other family ­members to "the ­Richest Hill on Earth" — Butte, Montana — and paid their dues to the ­Anaconda Copper Mining Company. ­Fortunately, the deep, dark shafts proved to be a temporary detour. The maternal side of the ­family — the Rebishes — settled in the Beaverhead Valley outside ­Dillon, Montana. "They were from ­agricultural areas in Eastern Europe and wanted to stay in agriculture, so they eventually came down here and started ranching," says Helle.
Early on, Peter and George Rebish supported their ­family by working on area ranches. In the summers, they would then herd the family's sheep, along with the larger community flocks, out of the valley and into the ­mountains. For months on end, they would traverse wide-open grassy meadows during the day and keep watch over the flock at night to protect it from predators lurking in ­mountainous landscape.
"They started out the hard way in the sheep industry, but eventually they were able to build up their own sheep numbers, bought a place in the valley, and then bought some sheep allotments," Helle says. "So they put together an operation in the 1930s through leases and purchases."
The East Bench
Peter Rebish was ­instrumental in forming the East Bench Irrigation Project, a 50,000-acre block ideal for raising quality stock.
"It brought thousands of acres of irrigated ground up to this bench," says Helle. "So my grandfather and great-uncle bought a lot of that acreage here outside of Dillon and expanded from there, buying more and more land. It was a pretty good opportunity if you were willing to work hard."
That work ethic, grit, and determination were passed down to Helle, 59, who grew up immersed in this ranching tradition. Decades later, he and his family have developed their own successful sheep operation — the 25,000-acre Helle Rambouillet Ranch. But he sensed a missed opportunity.
"We were always looking to take our products beyond the front gate," he says. "It's vertical integration — moving the supply chain closer to the consumer rather than just selling a commodity into a mix of commodities that go into this huge production chain. We were trying to find a way to take our wool and identify it all the way through the production system — knowing we had a hand in every aspect, from on the ranch all the way through manufacturing to the ­garment. The Sheep to Shelf idea has always been a goal of mine."
There was only one problem: Helle is a rancher. That's the business he was born into, and that's the business he knows. Branding his wool and marketing it was not in his wheelhouse.
Launching Duckworth
Fortunately, he was able to identify the requisite partners who could assist with processing, manufacturing, retailing, and, of course, financing such a venture. It was not an easy task, but in 2014, Duckworth launched.
Today, Helle's son Evan manages Duckworth's production; he also runs Helle Rambouillet. Another son, Weston, puts his range science degree to work, focusing on improving the rangeland to better cope with drought, establish greater resilience, and produce more of a carbon sink, absorbing carbon dioxide naturally into the soil.
"Now all of a sudden, all these buzzwords are coming out like sequestering carbon. We've been doing that for 50 years on this ranch, improving our rangeland because we saw the monetary benefits of it," Helle says. "So for every one percent increase in carbon I can store in the soil in the form of organic matter, I can gain one more inch of water-holding capacity."
Embracing Sustainability and Technology
As a third-generation rancher here, it's clear that Helle knows his land. Since his rangelands have evolved under ruminant animals — from bison, elk, and deer to sheep — he believes that's what it needs to be sustainable. "They [sheep] have four stomachs," he says, "so they can eat a low-quality feed and convert it to high-quality products like wool and meat just like the bison are able to. But when you have two systems evolving at the same time — a ruminant animal evolving under a rangeland system — they're very interconnected. So in winter when there is no or very little biological activity happening in the soil because it's too cold or frozen, those ruminant animals are packing around lots of vegetation in their rumen."
The family has embraced sustainability and technology in all aspects of the ranch and clothing brand, which is, perhaps, one of the keys to their success. They test all of their wool under an optical fiber-diameter analyzer. This dictates where specific lots of wool are best used.
Thicker wool is reserved for socks; thinner, softer fibers go into direct-to-skin shirts. In addition, high-tech trackers are now used to monitor the Rambouillet herds with a state-of-the-art GPS system.
All ranchers know that drought or other natural disasters greatly affect production. This is, of course, always on Helle's mind. However, at the rate Duckworth is growing, the ranch's wool production may not keep up with demand. It's a great problem to have, and the family is developing a ­contingency plan.
Sheep to Shelf
"We're starting a pilot program," says Duckworth Marketing ­Director Mike Somerby. "You might call it the very early days of a wool co-op." Duckworth is looking for ranchers with ­similar values to incorporate Helle-raised Rambouillet rams into their breeding and genetics programs to expand their superior genetics.
The Helle family's Sheep to Shelf operation is unparalleled in the ­industry. "There's no one else with our story," Somerby says. "There are a few other American-made wool products that use American wool, but they don't have that direct relationship like we do. They're buying wool from others that are not at all involved. On the other hand, I can visit the ranch and touch a sheep's wool that will ultimately become a shirt. That's a very foundational piece of the brand."
Duckworth switched from wholesale to an e-commerce business model a few years ago. Thanks to this shift, they've not only seen increased interest but better financials too.
"It keeps evolving, and we just make things work," Helle says. "We've built in a lot of resilience, and our operation is very sustainable. We're able to make it work because we're really serious about how we manage our rangelands. Our rangelands are critical to the ­success of our operation."