Harrison Ford Crafts a Masterpiece
Photography By: Timothy White
Harrison Ford Crafts a Masterpiece
Photography By: Timothy White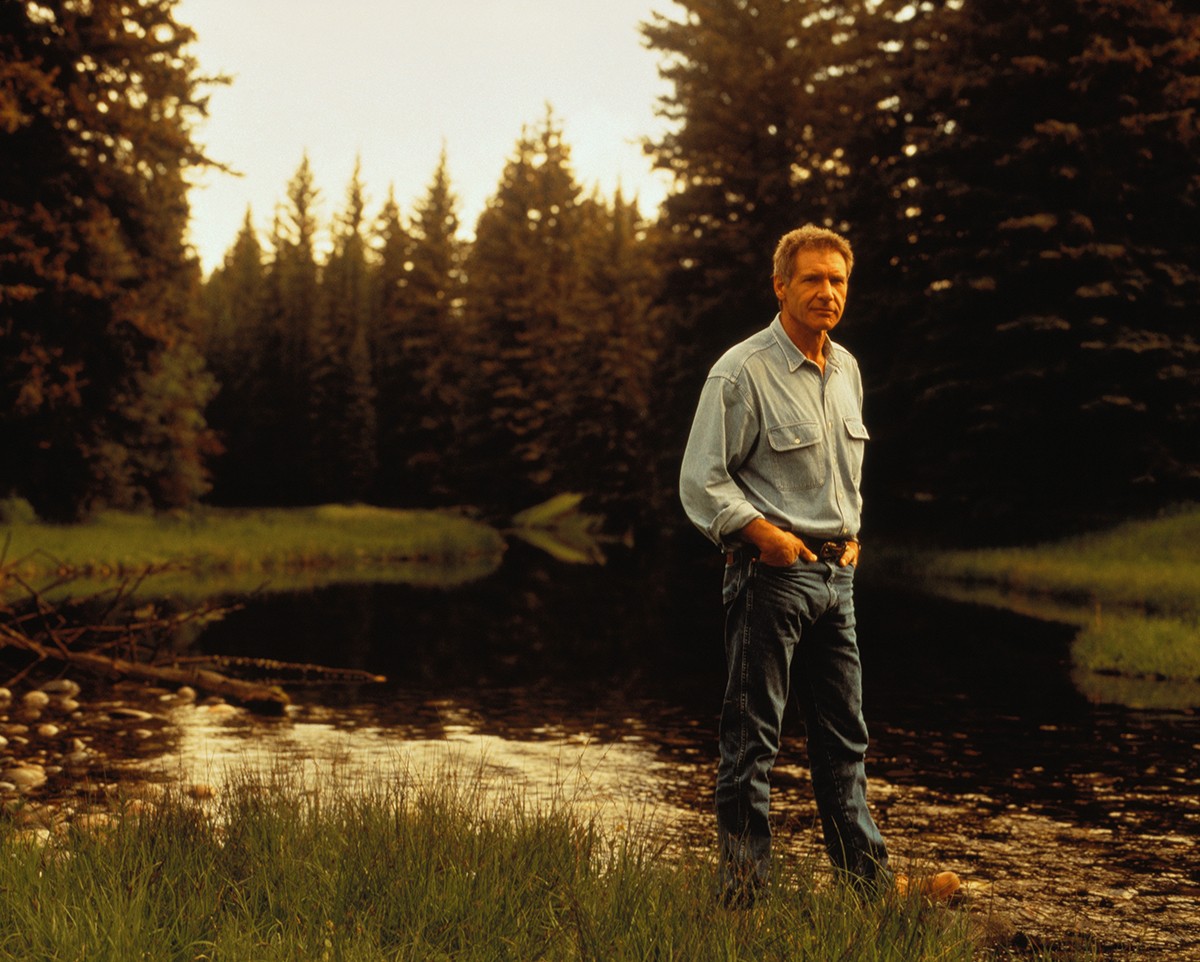 Harrison Ford has made a career out of defying death and saving the day, the girl, or maybe just civilization as we know it-feats he routinely pulls off in the time it takes to wash down a handful of popcorn with a swig of Coca-Cola. It's a unique skill set-one that comes with its own rewards, such as getting to choose where you live. And by the time Return of the Jedi hit box-office gold in 1983, Ford was ready to pull up his stake and leave Southern California.
A Los Angeleno since he quit Ripon College in the 1960s, Ford and his early days in Hollywood are now the subject of many a colorful anecdote. During his years as a struggling actor, he made ends meet by working as a carpenter, a role that would later serve him well as a landowner. He developed a solid reputation in the film community as a meticulous craftsman, completing projects for the likes of musician Sergio Mendez, actress Sally Kellerman, and director Richard Fleischer. But thanks to a string of blockbusters — Star Wars, The Empire Strikes Back, Raiders of the Lost Ark, and Blade Runner, to name a few — his days as a professional carpenter had officially come to a close.
A new chapter in his life had begun, one dominated by a never-ending series of new productions to headline. He and his wife at the time, Melissa Mathison, began searching for sanctuary outside LA. They started out scoping property in and around star-studded Sun Valley but quickly switched sites to less trendy Jackson Hole.
"I think we all get something set in our heads early on. And the first time I saw Jackson Hole, I said, "This is the place that's been in my mind all the time," Ford told biographer Garry Jenkins.
Ford was not the first to be captivated by the enormous valley that lies at the foot of the majestic Tetons. Teeming with elk and cut by the Snake River, Jackson has long lured the adventurous: centuries ago, Shoshone, Gros Ventre, and Blackfeet Indians; more recently, trappers, pioneers, and dudes. Its breathtaking vistas so enamored philanthropist John D. Rockefeller Jr. that he acquired approximately 35,000 acres south of Yellowstone National Park and later donated it for the establishment of Grand Teton National Park.
Of the many parcels of property that were on the market at the time the Fords arrived, the one that caught their eye was an 800-acre retreat nestled along the Snake. Migrating elk and mule deer roamed its pastures. Bald eagles and blue heron nested. Native cutthroat trout jumped for caddis. According to Ford, "It was about water, streams, trees, animals, a grand expression of nature. The Tetons rising sharply from a flat, high mountain plateau."
Ford and his wife were given the option of carving out a few acres and buying the existing home with it or purchasing the home and the entire tract. "It had everything I ever wanted," he said. They jumped headfirst and bought it all.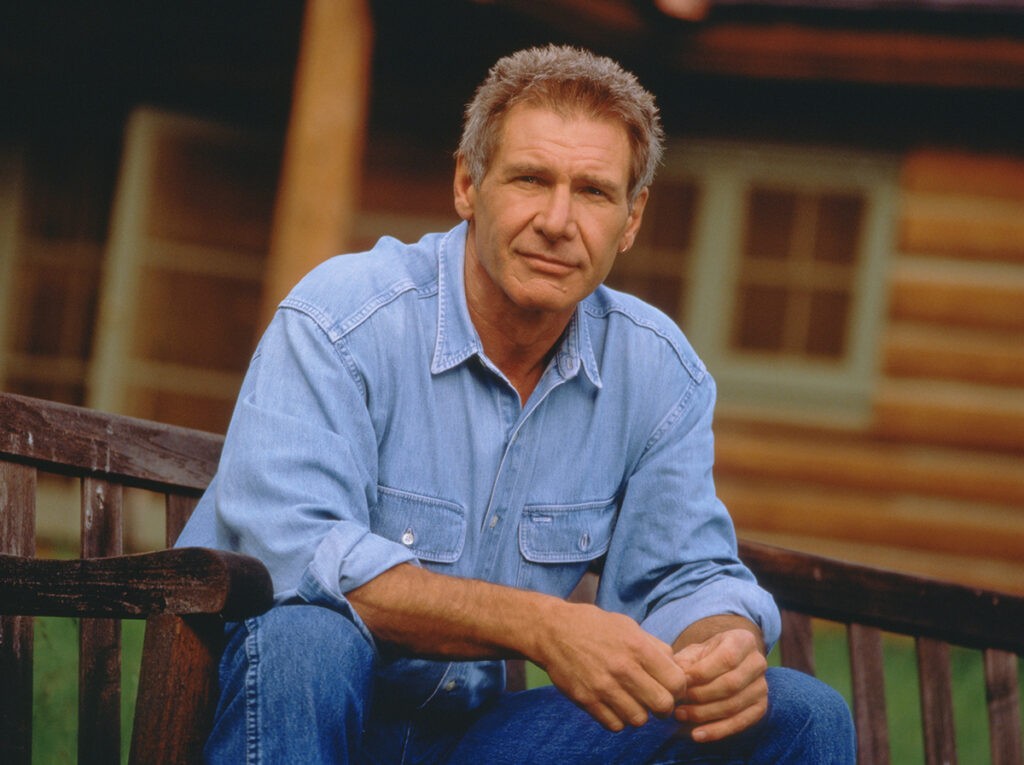 As any landowner knows, buying and building are two very separate tasks. It would be several years before Ford would be able to break ground on any new construction. Not surprisingly, when it occurred, the Hollywood heavyweight was on location on a different continent. While filming Frantic for director Roman Polanski in Paris, Ford sketched out plans for his Wyoming retreat. Each morning, as workmen arrived on his property in Jackson, a new set of painstaking instructions from France awaited them on the fax machine.
What began as a series of spontaneous scribbles on the back of random papers was soon transformed into a miracle of hand-hewn excellence. The resulting structure featured flawlessly executed cabinetry. Windows framed stunning views of the majestic mountain range. "In terms of details, people don't build houses like that," said writer Jim Harrison, a subsequent guest of Ford's.
Several months later, the former carpenter returned to inspect his new home and then helped many of those same contractors construct a guest house and a large barn, which now doubles as his workshop.
Since that time almost two decades ago, Jackson Hole has gone from a sleepy little cow town to a sprawling resort known worldwide. In the summer months the valley explodes with more than 3 million visitors venturing to Grand Teton National Park and nearby Yellowstone.
Among the locals, a 20-year resident such as Ford is regarded as somewhat of a pioneer. Right from the start, he made a point of blending in. "I need balance," he said. "I need to be in a situation where my every whim is not attended to, where I have to fetch my own nails, do my own shopping, and wash my own dishes. … Being normal is a kind of victory," he said. "I'll fix a fence, repair a piece of equipment, or plough the driveway if there's snow. There's always plenty of work to do."
Although Ford originally envisioned Jackson as an escape or, better yet, a return to normalcy, sometimes the world arrives on his doorstep. One example is when President Bill Clinton celebrated his 50th birthday in Jackson Hole in 1996. At the birthday dinner, Ford and his wife were seated at the head table with the president. At the time, the actor was about to start production on Air Force One. Naturally he was cast in the role of the president of the United States. Sensing a deft PR move, Clinton granted Ford and the film's director, Wolfgang Petersen, access to Air Force One during his Wyoming stay.
A seasoned pilot himself, Ford routinely offers his flying skills for mountain rescue missions. Though he typically downplays his role as a Teton County sheriff's deputy, he once plucked a stranded climber off of 11,106-foot Table Mountain. He also joined a search for a missing Utah Boy Scout in Yellowstone. Ford and another rescuer found the 13-year-old boy about 10 miles from camp. He landed nearby and whisked the tired scout to safety.
Moving to Jackson Hole kindled Ford's interest in the environment. An active board member of Conservation International (www.conservation.org), he continues to be an integral part in shaping the organization's mission to conserve biodiversity around the world. For him that mission begins at home.
Beginning in 1985, he donated a series of conservation easements on his property that prohibit substantial development or development that otherwise impairs the wildlife and natural resources on much of his land. Future generations will reap untold benefits. So will his neighbors and nearby public lands.
"What an example he set when he donated those easements," says Laurie Andrews, executive director of the Jackson Hole Land Trust. A local organization whose purpose is to preserve, protect, and enhance wildlife habitat and the natural beauty within and surrounding Jackson Hole, the trust is well known nowadays. Two decades ago it was a different story.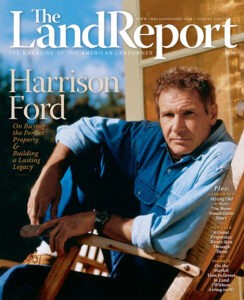 "Back in the l980s very few people knew anything about conservation easements, and there were very few active land trusts," writes Stephen Small, who helped author the tax code for conservation easements. "But the Jackson Hole Land Trust was a pioneer in this regard [it was] the recipient of some early important easements. There were other landowners, including at least one longtime ranch family, who donated easements to the land trust around this period, but Harrison Ford was certainly known outside of Jackson and clearly was also a pioneer. There are now a lot of visible and famous easement donors — Ted Turner and Robert Redford to name two — but I think Ford was the first star to get involved."
It's a legacy of incalculable value. "Back then he was breaking new ground. For him to step forward and say, 'This is win-win. It works for me, and it works for the land,' you really can't put a price on that," Andrews says.
Clearly life on his land matters to Ford. All life, not just his. "You get a sense of reference there," he has said. "You feel part of something that's got order and balance and harmony to it. All the distraction and noise, all the confusion of misplaced, misdirected energy just don't happen there."