Land Report December 2013 Newsletter
Land Report December 2013 Newsletter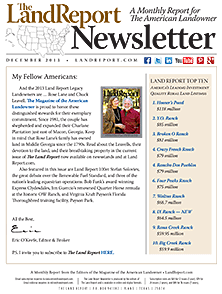 Rose Lane and Chuck Leavell take center stage in the Holiday issue of The Land Report as we honor the stewards of Charlane Plantation as our 2013 Legacy Landowners. Their 2,600-acre Middle Georgia tree farm is a diversified operation, one that Rose Lane and Chuck kindly share with readers of The Magazine of the American Landowner. Learn about its history, their passion, and a wonderful slice of America in this compelling story.
Our December newsletter also features updates on major transactions, trends in key sectors, and new ways to access USFS data from your tablet or smart phone.
For up-to-the-minute reports on listings, auctions, sales, and breaking news pertaining to land and landowners, be sure to follow us on Facebook, Twitter, and Pinterest.