Land Report February 2015 Newsletter
Land Report February 2015 Newsletter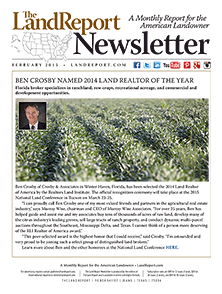 Page through out February newsletter to learn:
Who was selected by the RLI as the Land Realtor of the Year.
What crop disease the USDA is tackling with $30 million worth of research.
What conference you need to attend if private timberland is in your portfolio.
For up-to-the-minute reports on listings, auctions, sales, and breaking news pertaining to land and landowners, be sure to follow us on Google+, Facebook, Twitter, Pinterest, and Instagram.