Land Report February 2016 Newsletter
Land Report February 2016 Newsletter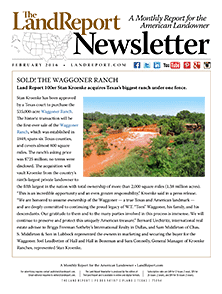 Thanks to his acquisition of Texas's Waggoner Ranch, Stan Kroenke vaulted from No. 9 on the Land Report 100 to No. 5 earlier this month. Read more about this historic sale in our February newsletter, and learn about:
A Napa estate once listed for $35 million that sold for $18.1 million.
The second straight decline in Midwest farmland values.
The uproar at the California Coastal Commission.
For up-to-the-minute reports on listings, auctions, sales, and breaking news pertaining to land and landowners, be sure to follow us on Facebook, Twitter, Pinterest, Google+, and Instagram.