Land Report February 2017 Newsletter
Land Report February 2017 Newsletter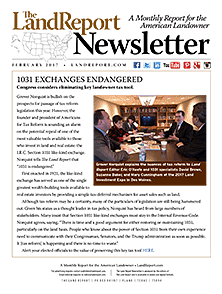 STOP THE PRESSES! CONGRESS CONSIDERS ELIMINATING 1031 EXCHANGES!
1031s are an essential tax-deferral mechanism for landowners coast to coast.
Grover Norquist tells The Land Report that tax reform by Congress is a certainty.
Norquist adds that 1031s are under consideration for elimination.
We show you how to contact your elected officials to preserve this key asset-building tool!
For up-to-the-minute reports on listings, auctions, sales, and breaking news pertaining to land and landowners, be sure to follow us on Facebook, Twitter, Pinterest, Google+, and Instagram.