Land Report January 2014 Newsletter
Land Report January 2014 Newsletter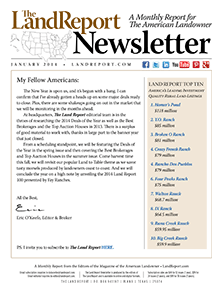 Listings, closings, ranchland, timberland, farmland – updates on all of the above can be found in our January newsletter, which also features a complete rundown on the most expensive properties currently on the market nationwide, The Land Report Top Ten.
Also in our January newsletter, you'll find summaries on major political developments, including a baffling decision by the International Trade Commission regarding plywood dumping by the Chinese government.
For up-to-the-minute reports on listings, auctions, sales, and breaking news pertaining to land and landowners, be sure to follow us on Google+, Facebook, Twitter, and Pinterest.