Land Report January 2017 Newsletter
Land Report January 2017 Newsletter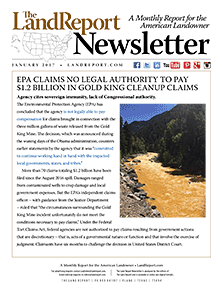 Landowners from coast to coast have been battered and blessed in 2017, including:
The EPA's decision not to pay compensation for the Gold King Mine spill.
The much anticipated end to California's prolonged drought.
Hope to see you Friday, Feb. 3, at the Peoples Company 10th Annual Land Investment Expo in Des Moines!
For up-to-the-minute reports on listings, auctions, sales, and breaking news pertaining to land and landowners, be sure to follow us on Facebook, Twitter, Pinterest, Google+, and Instagram.