Land Report July 2013 Newsletter
Land Report July 2013 Newsletter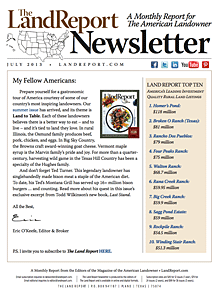 Land to Table! That's the theme of the Summer issue of the Magazine of the American Landowner, and we invite you to join the feast right HERE.
More than 30 properties are highlighted in this sumptuous issue, and the landowners themselves are fascinating – and diverse. From Vermont to Illinois, Texas, and Montana, their stories inspire. One of our profiled landowners – Ted Turner – raises and finishes his bison in so many different states that it's almost impossible to list them right here. (How about we do that in our Land Report 100 issue this fall?)
Another intriguing article takes a look at the centuries-old border dispute between Georgia and Tennessee. From a minor surveying error a major fracas.
So be our guest. Pull up a chair and enjoy our Land to Table issue.
For up-to-the-minute reports on listings, auctions, sales, and breaking news pertaining to land and landowners, be sure to follow us on Google+, Facebook, Twitter, and Pinterest.